Okay, guys, how are you coming on your Valentine's Day plans for your wife or significant other? Have you selected the special, highly personal playlist of songs and burned a CD or uploaded it to her MP3 player? No?
Well have you written her a poem, or a letter, telling her how much she means to you? Thought of something special to say that's not too many words to memorize?
What, you mean you're going to rush down to the store, find a hyper-priced bunch of roses or an over-packaged box of chocolates, or buy one of those spa packages that tells your wife, "Honey, I love you, but you need a whole day of people working on you to get beautiful!"? (Or worse, "Honey, I saw this spa ad in the sports section and the woman in the photo looked really hot, draped in this sheet and, uh, yeah, well, and it made me think of you! Yeah, that's the ticket!")
You might as well throw yourself on her mercy (she's probably used to it anyway) or let yourself be led to slaughter on the altar of Hallmark by a couple of those winged FTD guys.
Wait a minute, maybe it's not too late. Find a nice, romantic poem, type it into your computer, use a frilly font, print it out in color, buy a nice frame at Target. Voilà! What do you mean, all you can think of is "Casey at the Bat?" Okay, here's a good one by Kenneth Rexroth. It's been tried, tested and personally guaranteed by me.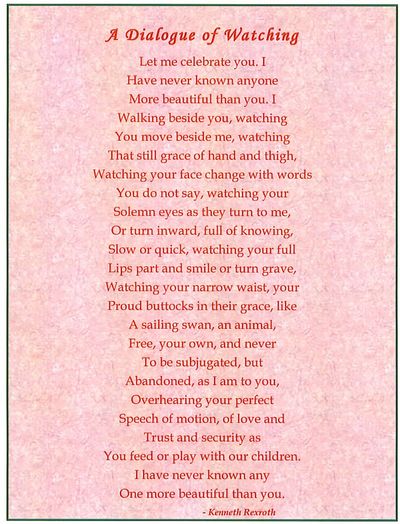 Click to enlarge.