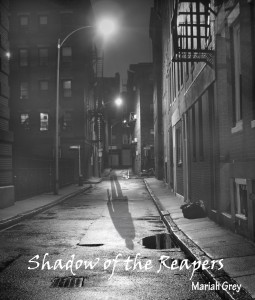 An urban fantasy, Shadow of the Reapers is set in modern America, 25 years after The Rift, a hushed-up government operation that unleashed a growing horde of undead mutants, called Anathema, on an unknowing and unseeing public. Standing between the innocents and oblivion are the Reapers, trained fighters with the rare ability to see Anathema before it's too late.
Shadow of the Reapers revolves around the lives of two young women, Grace Arch and Sylis Quick, aka Shadow. Grace is the orphaned survivor of an Anathema attack, raised and trained since she was a child in the Iris Academy, a training school for Reapers. Shadow is a more experienced Reaper, working alone and trying to forget a secret that matches her name. Grace, too, carries a secret that even she isn't aware of. Soon, the two become entangled in a web of deceit and power, and despite their differences, must team up when a threat greater than either of them could imagine rises up and tries to eliminate them both.
Cruise the night with Grace and Shadow as they tell their tale in alternating first-person narratives, taking on Anathemas known as Riven and Bales. With flying feet and flying fists, sharp weapons and even sharper wit, the two are fast, efficient and deadly. But, are they as strong as they think they are…or will need to be?
You can purchase Shadow of the Reapers for only $1.99 here, here, or on the iBookstore for iTouch, iPad, and iPhone!
The story so far:
Prelude and Chapter One: The First Fight
Chapter Two: We Now Return You to Your Regularly Scheduled Program
Chapter Three: Inside the Iris Academy
Chapter Four: The Great Escape
Chapter Five: Going Home
Chapter Six: Everything is Back to Normal….?
Chapter Seven: ….Or is it?
Chapter Eight: Memories
Chapter Nine: Azure and Glitch
Chapter Ten: Just Life
Chapter Eleven: That's Worrying 
Chapter 12: An Interlude of an Evil Sort, and Chapter 13: Fight and Revelation
Chapter Fourteen: Shadows and Light
Chapter Fifteen: Aftermath
Chapter 16: An Interlude of Evil, part 2; and Chapter 17: Old Connections
Chapter 18: Sojourn; and Epilogue
Supporting the arts: A message from the author, "Mariah Grey":
Okay! Time for a shameless plug. If you like what you read here in my first novel and would like to encourage a winsome young writer just starting out (a young writer with a grateful heart and a long memory), please share your thoughts in the Comment section at the end of each chapter. And if you really like what you read and want to be especially encouraging, I will accept donations via PayPal!
You may be thinking, "Why should I donate, anyway, when I can read for free? I don't (or maybe you do) know who this random girl is. What's it to me?"
I have comprised a list of the expenses that go into writing/publishing a book.
"What's that?" you say. "AHA! I've found a hole in her logic! Her books aren't material, they are just a download! How expensive could it possibly be?"
Well, good sir/madam, I'll tell you. Your donation, should you choose to make one, will be put to use on one or more of the following:
First of all, chocolate. 72%, to be specific. Do you have any idea how much chocolate is needed to create a semi-understandable first draft? Especially during the month of November (National Novel Writing Month)?
Second, editing services. Right now I am trading lawn care in return for my senior editor's attention. Time spent mowing the lawn, however, is time not spent churning out the word count. Of course, I have no promise that I won't be asked to do yard work once I have some sort of an income, but perhaps a bribe could be solicited…
Besides, there are a number of rumors floating around that charitable donations have been linked directly to increased productivity (which means more for you to read, and faster), funnier paragraphs, and that warm, fuzzy feeling that everybody loves so much. In the interest of science, I want to test that hypothesis using close monitoring and repetition. Lots and lots of repetition!
Thank you for your support!
Your humble, endorphin-deprived author,
MG