by the Night Writer
Down among the reeds and rushes
A baby boy was found
His eyes as clear as centuries
His silky hair was brown

Never been lonely
Never been lied to
Never had to scuffle in fear
Nothing denied to
Born at the instant
The church bells chime
And the whole world whispering
Born at the right time
Our pastor likes to say, "God gives you children so that you can grow up." The point is that your thinking changes when you realize the long-term responsibility you have, and your behavior (hopefully) changes when you start to recognize your less admirable traits showing up in your children. Unless, of course, you don't mind your child turning into a despicable evil genius.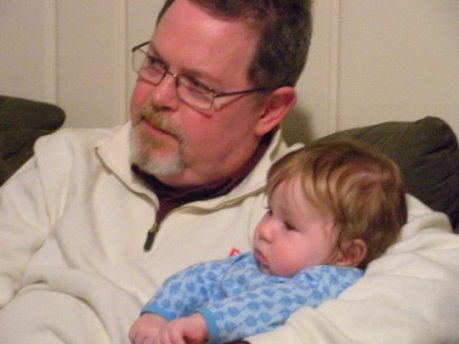 A second thought along this line occurred to me the other day: "and God gives you grandchildren so you can mature." By that I mean the satisfaction that comes from seeing all the things you worked so hard to put into your child manifest itself in and around your grandchild. It's the pay-off for the blood, sweat, tears and unpopular decisions you made to strengthen your own character as well as your son or daughter's and it comes when you see how they love and teach their own children in turn, perhaps even with a greater patience and discipline than you yourself possessed at the same stage in your life. It's at this point that you realize that your hopes for the future are bearing fruit and your work has passed from your hands.
I also realized that the same thing applies not just to the natural children you've borne or created, but to the "supernatural" or spiritual children you've discipled in the faith. How warm and glorious a feeling it is to see these children living on and sharing the things they've learned with others. Whether with natural or supernatural children, this is the point where you are truly overcome with the realization that something of you really is going to live on.
As an aside, this revelation may have germinated with me last week at the Bible study I lead at the Red Wing correctional facility. As it happens, each of the men in the study will be released at some point this year and I was moved to read the short chapter of Isaiah 61:1 to them. The first verse — "the LORD has anointed Me To preach good tidings to the poor; He has sent Me to heal the brokenhearted, To proclaim liberty to the captives, And the opening of the prison to those who are bound…" — was what had first caught my attention, but it was the rest of the chapter that was the most powerful because it deals with what can happen for those that receive that word and that liberty. Among these is in verse 3 — "that they may be called trees of righteousness" — and especially verse 9: "Their descendants shall be known among the Gentiles, And their offspring among the people. All who see them shall acknowledge them, That they are the posterity whom the LORD has blessed."
The mens' faces were a bit gob-smacked as I challenged them to be those trees and I saw the realization soaking into them of the effect they could have into the next generation and the next in the families they had yet to create. "You have the chance," I told them, "to have your grandchildren say of you either that 'Grandpa did 10 to 20' or that 'Grandpa was a mighty man of righteousness who was an example to our family and set my feet on the path.'"
And T. added, "Or they could say both."
As for my own grandson, now five and a half months old, his face often has gobs of different things on it, but it is almost invariably smiling. And why shouldn't he? He is literally surrounded by people who love him and are happy to see him and quick to want to hold him. As Paul Simon said at the beginning of this post, he's never been lonely, never been lied to, never had to scuffle for fear or had anything he needs denied to him.  If called upon I would gladly and readily pour everything I am and everything I have into him, but I can relax because I see that my daughter and her husband already know what it is they have to impart. My heart overflows with joy when I watch my grandson or hold him close and at the same time I feel an ache knowing that every day the news brings stories of babies that are resented, cursed and abused.
I look into his eyes, as clear as centuries, and stroke his silky brown hair and think of those born into suffering now and the deprivation they face that goes beyond mere food, clothing and shelter. I think of their lives and future paths leading into captivity and the need for someone, someday, to bring the words of liberty. And I hold my grandson even closer and whisper into his ear, "Born at the right time."