by the Night Writer
Well, entertained or not, I'm continuing to play catch-up with the travelogue. Today's photos are of Pula, Croatia.
We had heard that Croatia was beautiful and worth a drive. The Reverend Mother had read that Pula was a great place to visit, with lots of Roman ruins, and it was even further south than Trieste, so we thought the weather could be decent. The only problem is that you have to drive across Slovenia to get to Croatia and I've heard that the Slovenes like to shake you down as you're leaving the country by saying the highway vignette (a windshield tab that covers highway tolls) you purchased from an authorized vendor is counterfeit (and heaven help you if you didn't buy one – it could be a €150-300 fine on the spot). We did have a small problem at the Slovenia-Croatia border: Tiger Lilly had left her passport in her backpack, and her backpack in our apartment in Trieste. So we turned around and made another attempt the next day. This time the papers were in order (as was our vignette). You pass through the Slovenian guards, drive 10 feet and do it all over again with the Croatian ones. (When they're not busy, the Slovene guards and Croat guards sit in their glass booths and make rude gestures at each other. Kind of like Packers fans and Vikings fans.)
I can't really tell you if Croatia is beautiful or not. That's because the entire Istia Peninsula was socked in with fog as we drove to Pula and back. It was so thick that when we crossed a bridge we couldn't tell if the bridge spanned water or fields, except by looking on the graphic on the GPS screen. Fortunately, the fog lifted as we hit the Pula city limits (and returned at the city limits as we were leaving). The day was still overcast, but the temperature was comfortable and the city is a great mix of (really) old and new. It's on the Adriatic coast has a very mild climate year round (summer highs are in the 80s F and it doesn't often drop below freezing in the winter). Making a circuit of the sights on foot only covers about 3 kilometers, so it's a very manageable day trip if you're in the neighborhood.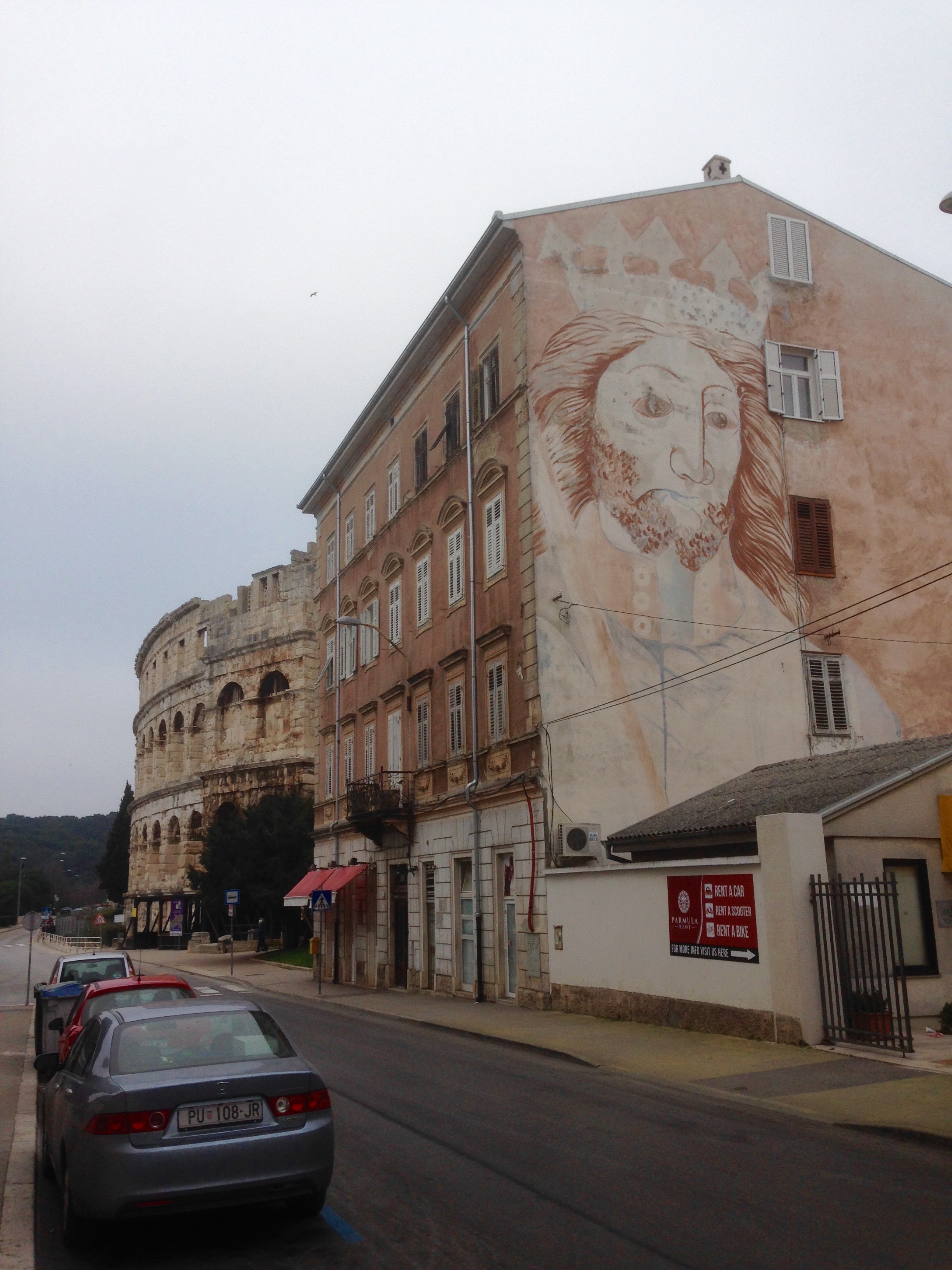 I think the name of my next album is going to be, "Hey – Wait Up!"
This was a lucky shot. I was sitting in the "end zone" seats of the arena when I saw Tiger Lilly emerging from one side. It was such a striking image – red hair and black coat against the sandy background – and I already had my camera out. I quickly slid it to "Video" and started to record, just in time for the Reverend Mother to emerge a few seconds later. There's no ultimate drama in the video; just a cool, captured moment.
Coming soon: Italy!