by the Night Writer
Tiger Lilly's research into the cost of living in Prague was pretty spot on. You can get by pretty affordably here. But as my new barber friend said the other day, "The cost of living is low, but the cost of goods is high." That is, his experience is that while food, drink and rent are relatively low, the cost of clothes, tools, equipment, computers, etc. can be very expensive.
The ever-useful Czech Ex-Pat website featured an interesting economic comparison sheet, developed by The Economist website, comparing the relative costs of obtaining a Big Mac in more than 40 countries (the Big Mac was chosen because it is almost universally available and is consistent in size and ingredients across all locations). According to the index, the CR is in the lower third of countries, paying $2.98 for the two-all-beef-patties-special-sauce-lettuce-cheese-pickles-onions-on-a-sesame-seed-bun. The most expensive is Switzerland at $6.44; the least expensive is Venezuela, .66. (You might not be able to find toilet paper in Venezuela, but you can get a Big Mac – and save the wrapper.) The complementary "Little Mac" index compares the price of iPad minis around the globe; the Czech price is about 9% lower than the global average.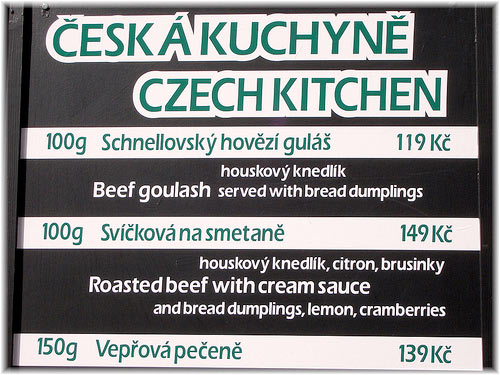 Take-away food from a stall is very reasonable. A large slab of pizza will go for little more than a dollar and change (USD) and a half-liter of beer (and everyone sells beer) goes for about the same, and restaurants typically feature entrees that are less than $10. One of our first nights in Prague we went to an Italian restaurant; I'd had a big lunch but was a little hungry. I saw pizza on the menu for about $8 and assumed that that was probably a small or "personal" pizza, and thought that felt about like what I was looking for.Turns out that pepperoni pizza was 14″ – no way I was going to be able to finish it (and it was very tasty) and we didn't have a refrigerator in our hotel in order to bring home leftovers. It was such a waste! Bars and restaurants, btw, seem to be the main industry in town. In our neighborhood there are at least 3 on every block, and they offer a lot of variety in cuisine.
Wages are also relatively low, though. The average monthly income in the CR is a little around $1,100 at current exchange rates. I also get the sense from talking to my barber that it's normal for people to have multiple part-time jobs. Tiger Lilly has been looking for jobs, and there aren't any full-time ones advertised (the "full-time" work mentioned by the school where she earned her TEFL certification turned out to be 22 hours, and some teacher said they often didn't get that). She has seen part-time positions suited to her skills and experience that pay about $12/hour before tax. If she lands one of these, she'll be able to meet her expenses for the most part. She found a large, private room with wonderful views in an apartment near Wenceslas Square for about $350 a month, which is low for the area, so she's feeling blessed.
Not needing a car is a big cost-savings for most folks. The city is compact enough to be well-served with public transit that gets you close to anywhere you want to go. (A standard 75-minute bus/tram/metro pass costs about a buck; you can get a 24-hour pass for less than $5; a month-long pass runs you $28. When we were in London in 2006, day-long Tube passes for 4 people cost me $40).
Clothing is not as affordable as the food; a pair of jeans can be 30 Euros (the CR currency is the crown, or koruna, but bigger ticket items are often priced in both the euro and the koruna). Second hand clothing shops, called SROs, are very common and import their goods from other western European countries – so don't expect the Czechs to be cutting edge in fashion.
Actually, living here reminds me a lot of being in college. Food and drink are plentiful and affordable, everyone does a couple of part-time things for work, wears older clothes and few people drive. Tiger Lilly earned her B.A. mostly through self-study via College Plus, with some classes at a local community college. She received a comprehensive education, but not much of the so-called "college experience". By moving to Prague she'll get that "experience" – and it won't cost us over $100,000 to do so!