by the Night Writer
We've been on the move pretty much since Dec. 20. We ended our month-long residency in the 5th floor apartment in Prague and started to take little bites of Europe as we made our way, ultimately, to Turin, Italy where we are now and will remain for a few days before starting back to Prague for the rest of our adventure. With our travel schedule and varying degrees of internet access it's been difficult to keep the blog updated, but I've definitely been taking lots of photos, and it's time to work through the backlog. Today's account features to Czech cities: Cesky Krumlov and Ceske Budojovice.
Cesky Krumlov
Cesky Krumlov is a lovely and historic city in southern Bohemia that reminded me of San Gimignano from our 2012 trip to Italy. It's centered around its 13th century castle and still has much of its medieval look preserved due to not being bombed or razed by war. That is not to say that the village hasn't been invaded, however: it is one of the most popular tourist destinations in the Czech Republic. When we came over this time as part of a Budapest-Prague tour we were offered the option of a day-trip to Cesky Krumlov. On the advice of the trip coordinator, though, we passed as it was described as a very steep and difficult place to walk. Once we started plotting our southward (and westward) holiday excursion, though we decided to give it a shot. Guess what: it is very steep and difficult to get around in – if you use a cane! There are flat enough spaces, to be sure, but the streets are made of large cobblestones, some of which have gaps big enough to swallow the tip of my cane, and they're uneven, and the streets are deeply crowned. You have to strike a balance (and try to maintain your balance) as you look up at the beautiful sites and buildings while also keeping an eye on the ground ahead of you! It is definitely worth the effort, however!
I covered the ground what I could, and the Reverend Mother and Tiger Lilly took on some of the steeper and more winding walks up to and around the castle. Scroll down for our collected images. If you'd like to see more photos than these, you can visit this link. We were here a few days before Christmas and the weather was overcast but mild; good walking weather! While the ladies were working their way up to the castle I went into a gingerbread store. That does not mean that it was made of gingerbread, but I did learn that gingerbread can be used in interior construction and decoration (who, besides Hansel and Gretel, knew?). The bread can be baked in decorative tiles with images on them, and remain edible (if you have to).
Here is a series of photos that the Reverend Mother took from the "high road":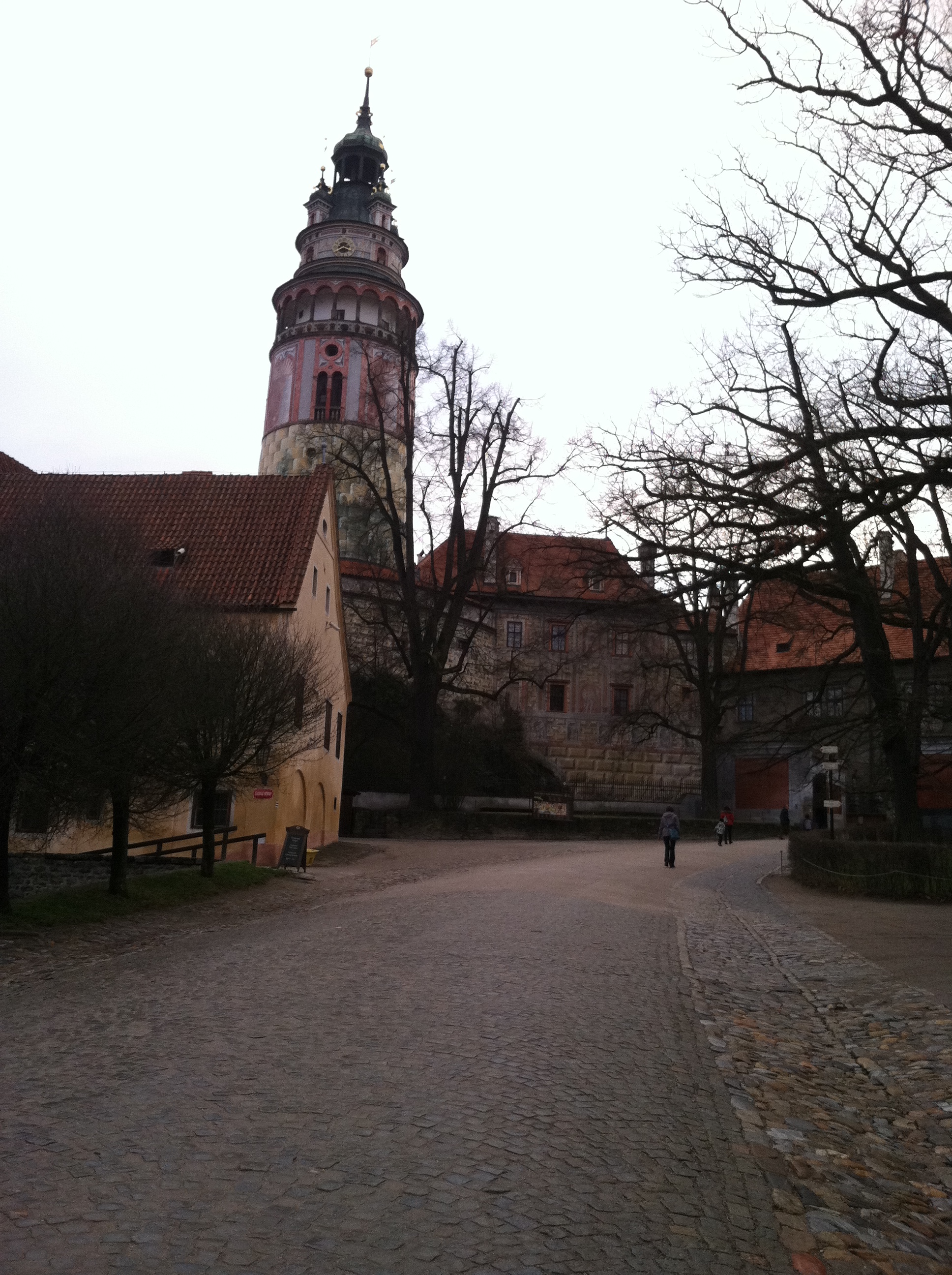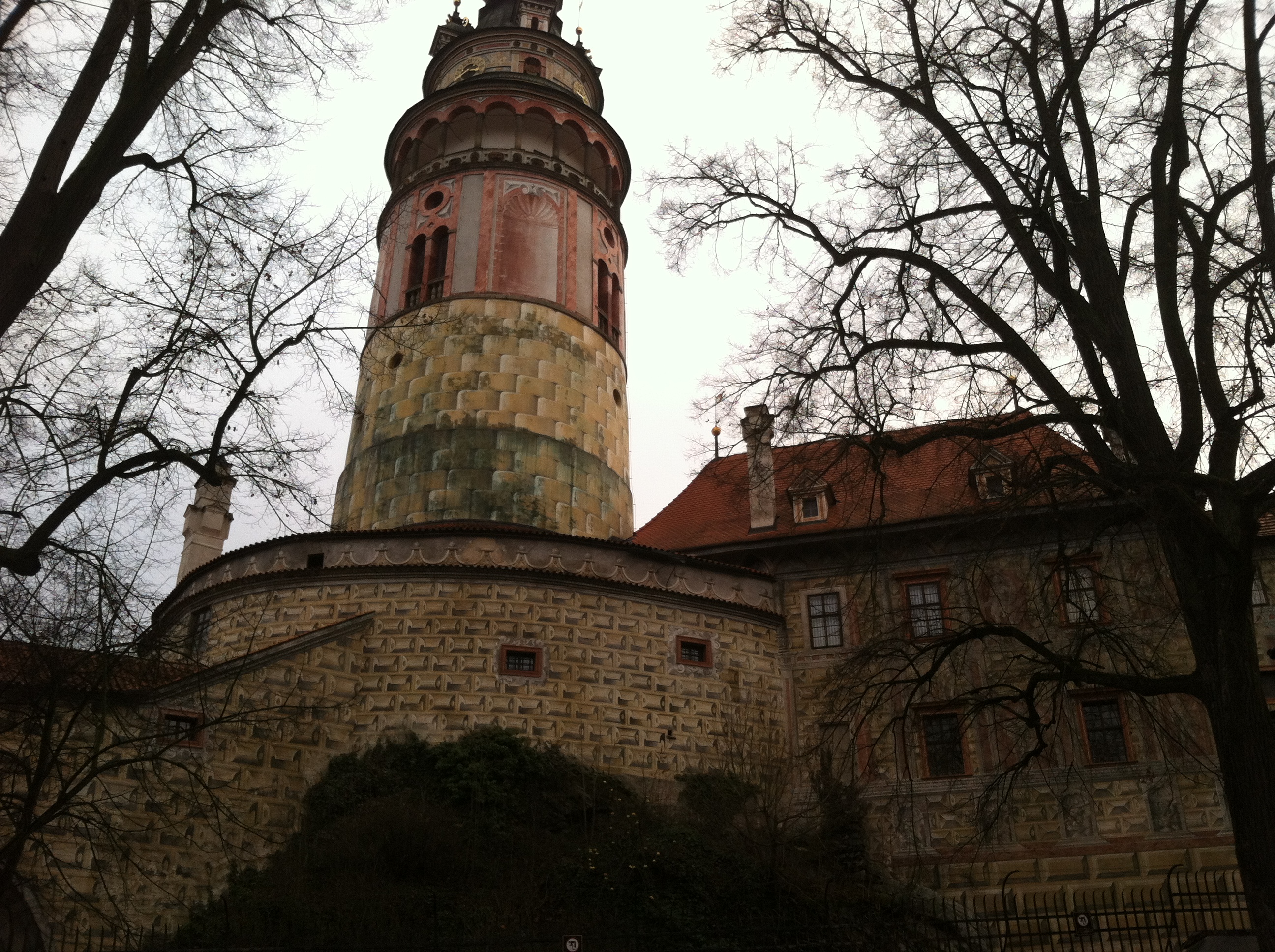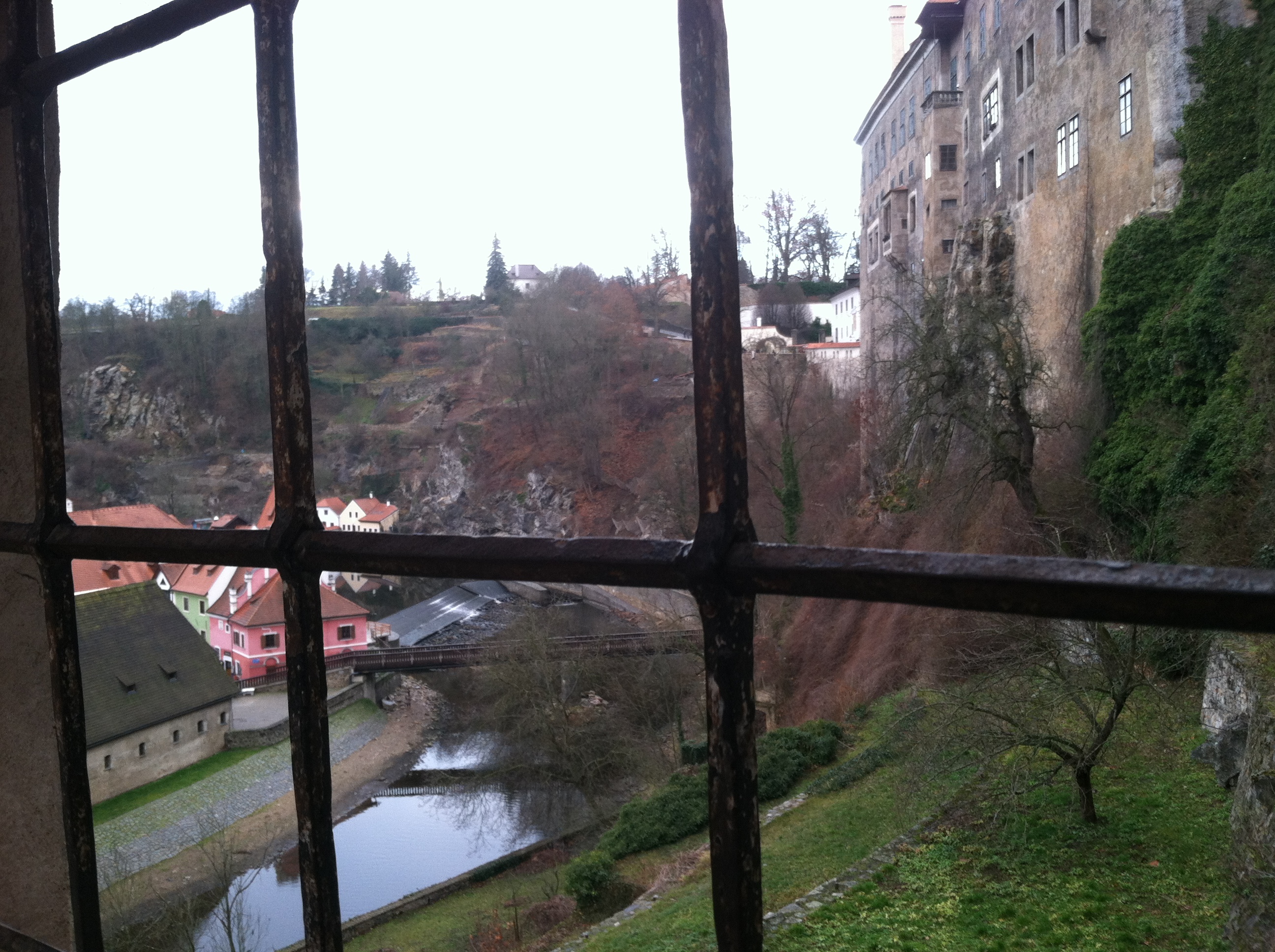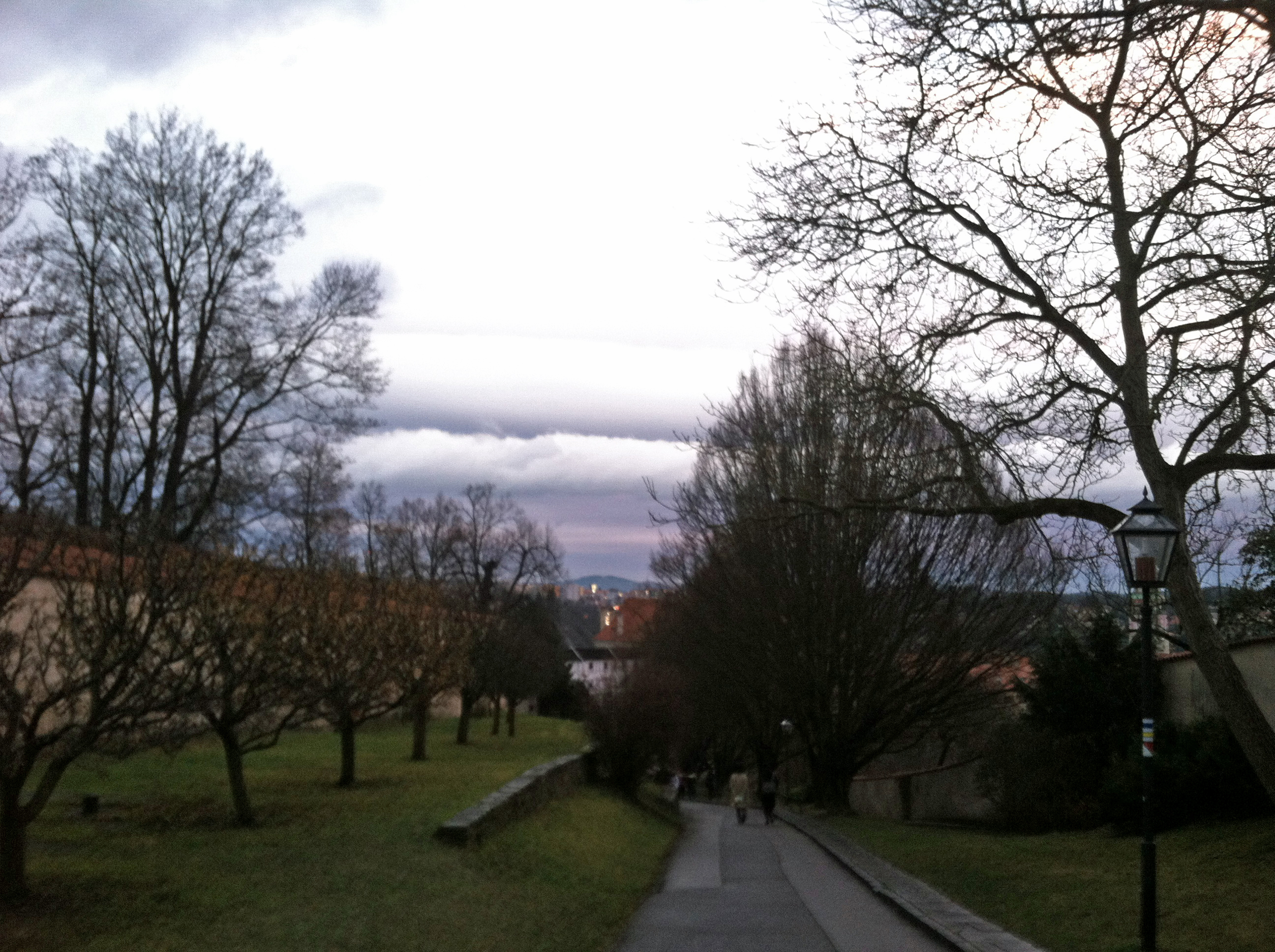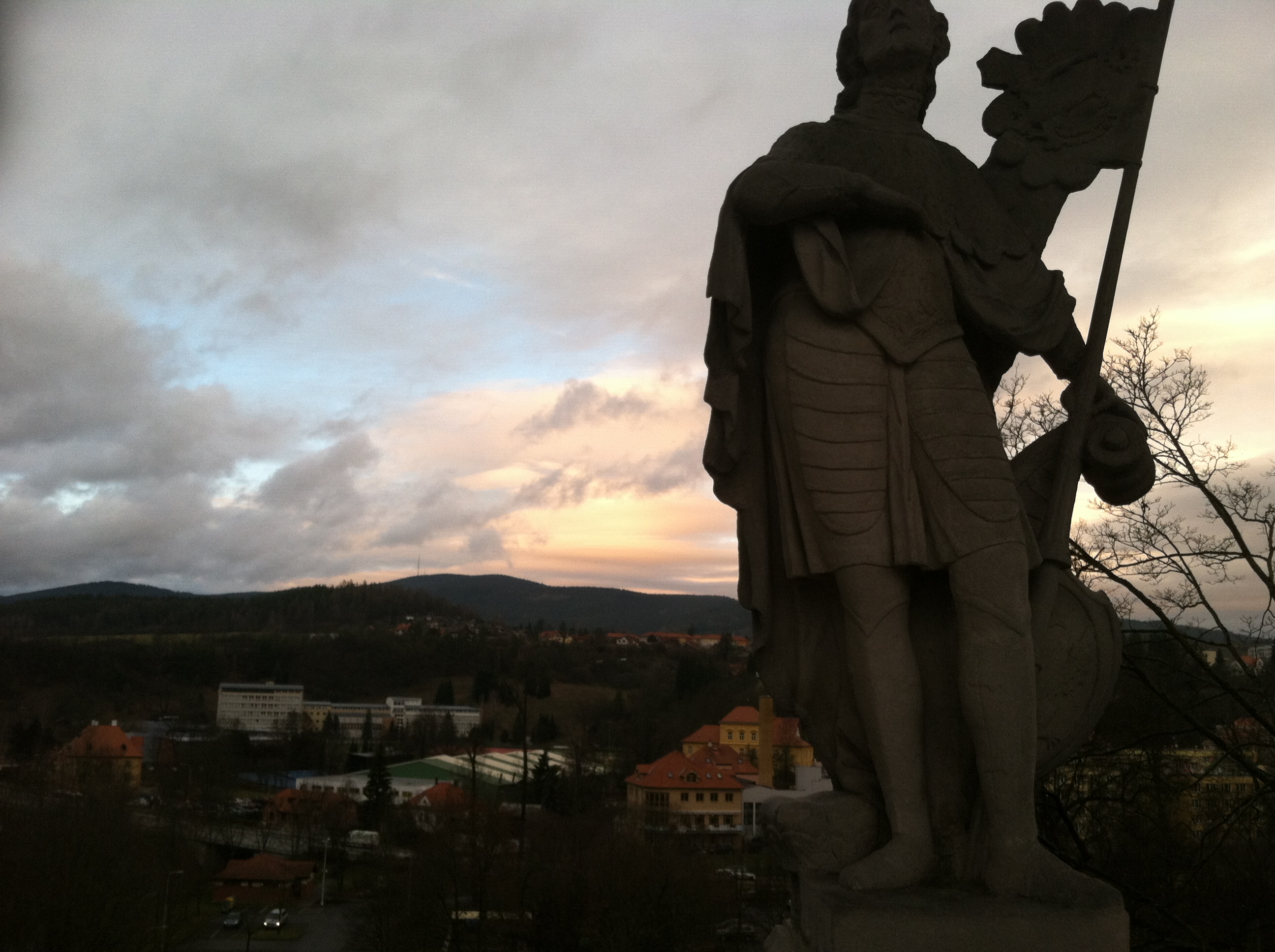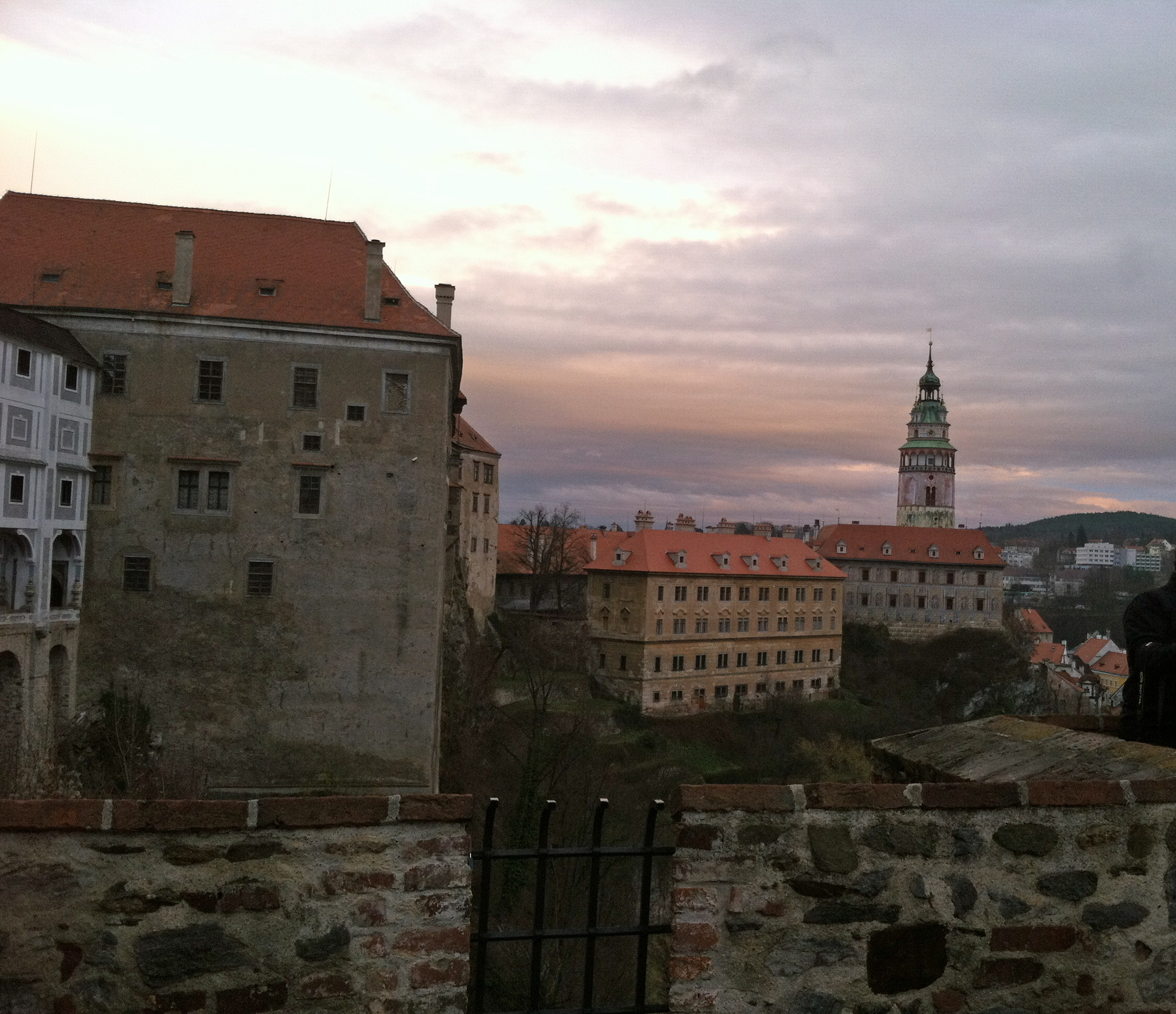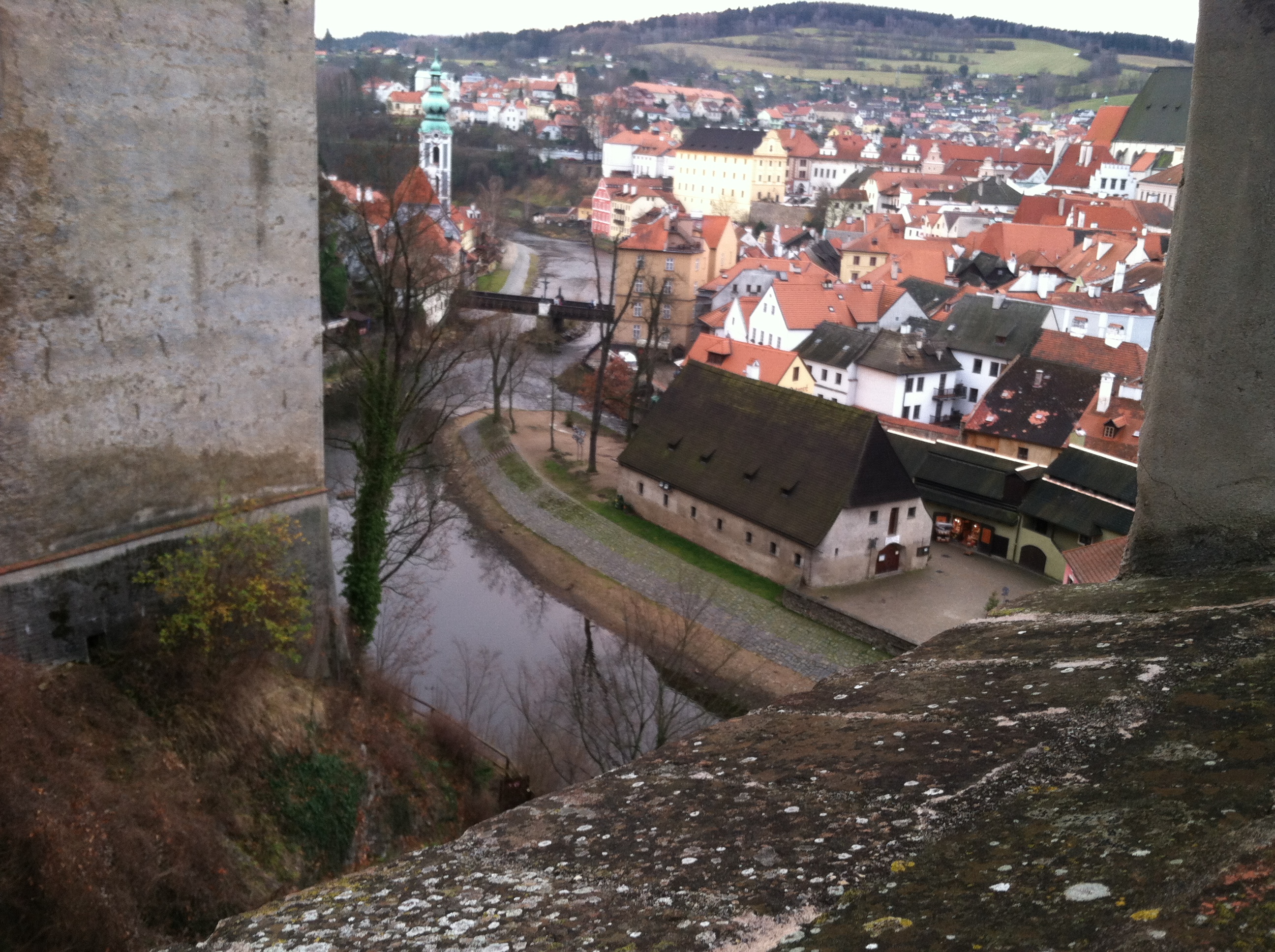 Ceske Budejovice
We didn't get to spend as much time or take as many photos in Ceske Budejovice (which we referred to as "Beetlejuice" for short). Actually, we spent quite a bit of time there, but most of it wasn't productive or interesting, thanks to complications in getting our rental car. The Reverend Mother is writing her own account of our overall adventures in car renting this trip, but this particular chapter entailed not being able to find the rental car office after we arrived in town by bus from Prague (so as to avoid having to drive in Prague). First of all, we arrived on a Sunday, and the car rental office is closed on Sunday, which we knew. We didn't realize how difficult it would be to find a cab, though, or for our cab driver to find our Airbnb lodgings. By the time we managed that it was time to find dinner, and our host pointed us to a nearby place, "The Pub". It was a neat place and every table had it's own beer tap from which you served yourself, and we had some excellent hamburgers. Strangely enough, while this town is the home of the original Budweiser brewery; you'd expect Budvar to be readily available – but this pub only carried Pilsner Urquell!
On Monday we sought out our rental car. You might expect to find the car rental office near the bus/train station (which is also a shopping mall), which would make sense – if there were an office. Instead you call a number and someone brings the car to you. It wasn't the smoothest process when 1) you don't know your way around town, and 2) the person you're working with knows very little English (but slightly more English than we know of Czech). By the time all the logistics were worked out and we got our car with GPS it was time to drive to Cesky Krumlov. On the way there, however, we discovered that the GPS unit would inexplicably fritz out at crucial times. E.g.,"In 400 meters, turn…." (black screen). Fortunately, Cesky Krumlov is not hard to get to, and we were able to get home as well, supplemented with my Smart phone Waze app (but Vodafone's data policies will require a later post of their own). The next morning we dealt with more logistics as we arranged to swap for a new GPS unit with the rental car agency. We needed to get on our way to Graz, Austria, but I really wanted to see the Budejovice town square first, which is said to be among the nicest in Europe.
The square is very large and tidy. The Christmas Market here wasn't as large as some we have seen, however. There looked to be room for many more stalls. The food was great, though – we strolled around, finding sausage, potato pancakes, fried cheese, macaroons and more!
One of the unique vendors was selling live carp. A Christmas carp is a tradition in this part of the world. I'm not sure I understand it, but you can read more about this here.
After our grazing it was time to head for Graz, Austria – the next stop in our travelogue!