by the Night Writer
About 16 years ago this month two little girls stood on stage with their Sunday-school classmates and sang "A Whale in the Manger" and other Christmas carols for an adoring public. One of those little girls was my daughter, the Mall Diva, and the other was her best friend, Casii (pronounced "Casey") Stephan. The two of them would eventually partner as singers and songwriters and do a handful of public performances before little things like the Diva's married life got in the way. Casii continued to hone her skills as a singer, a lyricist and composer however and even contributed a song to the soundtrack of the recently released movie "A Christmas Snow" (more about this movie in a later post). She also attracted the attention of a local music producer who helped her create a four-song EP that was released last week.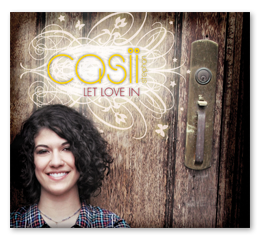 The EP, Let Love In, features a mix of up-tempo pop songs and soulful ballads that showcase Casii's luminous talents in the hopes of garnering wider attention in the industry. You don't have to wait for Casii to be "discovered", however, in order to discover her yourself. As of today all four songs from the EP — as well as her song "My Sweetest Dream" from the movie soundtrack — are available on both iTunes and Amazon to sample and to download, or you can contact her through her website to get the EP itself on CD.
Casii has always blown us away, even in her younger days when her big, big voice in a little body hardly required a microphone to fill the room when she sang. Maturity has brought depth and control to her voice as she sings with passion and nuance while also showing that she's a top-notch songwriter and musician. It has been so much fun to watch her bloom over the years and I'm looking forward to her further development and success in the future. Be sure to take advantage of this early opportunity to witness the emergence of an exciting new talent!