by Mall Diva
In yesterday's post a movie was briefly mentioned, in reference to Casii having a song on the soundtrack. This movie is called A Christmas Snow; it was written by Candace Lee and Tracy Trost (who also directed it). More about Tracy and Trost Moving Pictures in a later post.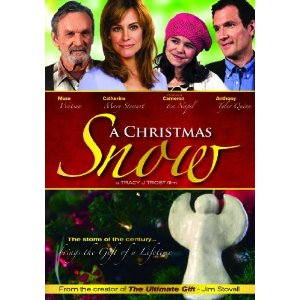 A Christmas Snow is the story of a woman who… well…. Ok. I'm not going to beat around the bush. This is an inspirational story of loss and heartbreak, and of love and forgiveness. It's heart-wearming, touching, and all those adjectives they use to advertise the "feel-good-family-film-of-the-year". Is it sappy? A bit. Did it make me cry? Like a baby.
The main character is a woman who owns a restaurant. The critics call her the "gourmet grinch". She is rather a scrooge. She had a tough childhood, and she's pretty bitter as a result of unforgiveness on her part. All of these painful secrets she has are promptly brought out and aired one Christmas, though, when she finds herself snowed in with her boyfriend's 10 year-old daughter and a perfect stranger- an older gentleman who came to her rescue during a midnight altercation in a parking lot. What is there to do for two days with a couple strangers and without power  besides talk? So three generations tell their stories, and find they're not so different.
I really enjoyed A Christmas Snow, and I encourage you to watch it. You'll laugh, you'll cry, it'll move you, Bob.
UPDATE
The DVD of the movie is available at WalMart (when it isn't sold out) but you can also watch it on TV. Several cable channels will be broadcasting the movie later this week; go here to see the schedule.