by the Night Writer
Son@Night and I attended our first Twins game at the new Target Field on Monday. I'd been looking forward to it since we bought the tickets a couple of months ago, and felt some excitement as we approached the stadium, so I was a surprised to find myself feeling a little crabby as we walked in and found our seats. Not that finding our seats was difficult; you get in (and out) of Target Field very easily compared to the Metrodome, though we were caught in a clog on the first concouse by the crowd in front of a concession stand taking advantage of $1 Hot Dog day. My mood was as inexplicable as the Twins' own run of indifferent play of late. I can't explain them, but I think my mood was perhaps affected by expectations.
Expectations can be a funny thing. Last week, for example, we took in a town ball game at Jack Ruhr field in Miesville and while my expectations then were pleasant, they weren't exceedingly high for an amateur game in a small town ballpark. As such, when we got inside the small park I was greatly impressed by the immaculate field and the pride of place demonstrated by the community as well as the general competence demonstrated by the amateur players. The staff inside Target Field were obviously and justifiably proud of their field and the fans moving through the concourse with us also seemed quite happy to be there. Plus, it was another gorgeous night for baseball and the new stadium isn't just "outdoor baseball" on the field, but open and bright through the concourses as well. Still I found myself casting a critical eye here and there, perhaps because of scale: a ticket and a snack in Miesville ran a little over $5; after buying my ticket and some food at Target Field I was already over $50 for the evening. "Alright, impress me," I thought as I got myself situated in my seat in the second deck of left field while simultaneously bemoaning that I'd forgotten to bring my hat and the early evening sun was coming over the wall directly into the side of my right eye. Never had that problem at the Dome.
But then things started to look up. Or at least I was able to look up. Within five minutes the sun had dipped below the parapets. "Great design," I thought, "taking into account the position of the sun so that it didn't get in the patrons eyes even on the day after the summer solstice!" With vision restored I could tell that the sight lines were good. The diamond and players seemed reasonably close and leg room in the seat better than expected (always a concern for me since my left knee doesn't do well when forced to stay bent at the same angle for very long). The only problem was that we couldn't see the left-fielders below us, or the left-center field fence (which would receive two homeruns in the course of the game that we wouldn't see). I also missed not having a jumbotron across from me for replays, but this is not a big loss since the Twins saw fit to show maybe three replays all night.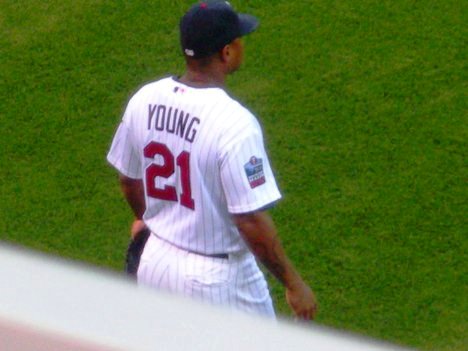 One of the few glimpses we had of Delmon Young all night.
Oh well, as a famous Minnesotan, Garrison Keillor, once said, "Love doesn't require perfection. It waits to be surprised by it, but it doesn't expect it in every case." So, shrugging off the Minnesota phlegmatism that has crept upon me over the last 30 years, I admired the rows of dark-green seats that were quickly filling, the Minneapolis skyline doing its own version of "knot-hole day" beyond the right-field wall and the strutting of the grounds-crew as they laid down a mist of water on the infield dirt. All in all it looked like a perfect baseball diorama. A few moments before the opening pitch the sound-system started pumping out the notes of Pink Floyd's song "Time." This is not a tune I'm used to hearing at a baseball game. I mean, if you're going to choose a Pink Floyd tune to set the scene for a professional sporting event then you've got to go with "Money". Or, given the scene laid out in front of me, "Shine On You Crazy Diamond".
Speaking of the sound-system, it was almost too weak for my taste but after years of being blasted and beat down by the cranked up volume at the Dome that left you quivering under your plastic seat after an hour, it was almost a relief to have to ask my neighbor, "What did he say?" as opposed to shouting, "What did you say?" One hold-over from the Dome, though, was TC Bear and his air-bazooka, firing rolled up tee-shirts into the upper decks. Even this had a certain pastoral charm as the white shirts gleamed in the sun as they climbed to the apex of their flight and fluttered in air like a Nick Punto foul pop-up.
For all the professional trappings and finish of the field, though, the home team came out and played as if it should have been riding a bus to Miesville. Wild pitches, almost unheard of bobbles, a runner on first being thrown out at second base after the batter hit a solid single to right field, and a succession of lazy pop flies that almost found me hoping the Detroit outfielder would experience Dome deja vu and lose the ball in the sky. The new stadium hasn't, however, eliminated the weird bounces. In one at-bat, the veteran Jim Thome smoked a line drive to right center field where it seemed destined to carom off of the wall. Instead it happened to catch the edge of the out-of-town scoreboard and ricocheted crazily at an oblique angle back toward the right field foul line, completely faking out the pursuing outfielders and leaving Thome, the old war-horse, no choice but to try for a triple. He rounded second base and ground toward third like a T-Rex trying to climb out of the LaBrea Tar Pits, fortunately arriving safely before anything could fall off. He would eventually score, one of the few times all night when a Twins runner arrived on third base without it being a predictor of an inning-ending double-play.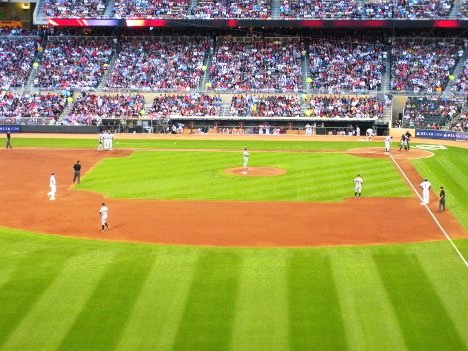 Oh, bases loaded! Let's turn two!
Third base is also the scene of another example of the Twins' struggles of late. That is where, due to injuries and great errors in talent evaluation and judgment by the manager and front office, the team is currently forced to play Michael Cuddyer. Now Cuddyer is a creditable athlete and a serviceable outfielder with a strong arm and just enough speed to allow him to make diving catches that other fielders would have made standing up but he plays third base like the Tin Woodsman after one of the many thunderstorms we've had this year. At one point in the game a hot smash was hit two steps to his left; his glove hand creaked into position so loudly I could hear it in the stands….and a full second after the ball had already blown by him. It looked as if he was posing to be the next baseball statue to be placed in downtown Minneapolis.
But it was a beautiful night and the park looked spectacular, especially as the sky deepened into the perfect camouflage for the steely-blue IDS Tower behind center-field and the park lights came on into their full glory. The players and the field looked even sharper and closer under this illumination. Looking across the way into the first base seats I could see multiple vendors in their day-glo yellow shirts moving through the aisles, looking like fireflies on an August evening.
Now where did that IDS Tower go? It was here just a minute ago.
For all the sloppiness in play the game was close and entertaining. The one grim moment coming when Detroit reliever Joel Zumaya's arm blew-up while throwing one of his patented 100-mph fastballs. Naturally, my eye followed the pitch as Delmon Young fouled it off, so it was surprising to look back and see Zumaya on his knees and writhing as if a witch-doctor where playing Operation with a big number 54 doll.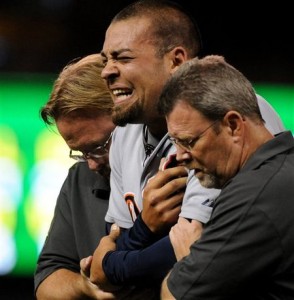 It was a tummy-plunging moment even for the spectators, who graciously cheered the young man as he edged his way off the field as if each step caused something else to break in his arm.
With that sober moment and the fact that the Twins went on to lose a game they really had no business winning anyway, it was a less than exultant ending to my first visit to the new stadium. I'm thinking, however, that I might give them one more chance... if anyone's got tickets they're not using.