by Tiger Lilly
Ah, the State Fair. Joy on a stick. Dad got a good deal on coupons and tickets (both entry and Midway) at work, so the bus ride was consumed with combing the coupon book for usable deals. Well, technically, Dad and I combed the coupon book. Mom play games on her iTouch. I think an intervention is needed.
First on our agenda was to get breakfast. Knowing that we would be consuming inumerable amounts of calories, I only had an apple for breakfast. The first thing we saw was a taco/burrito stand. That's probably not the best thing to start the day with. But, lo and behold, we found a coupon for crepes. Mom and I split a triple berry crepe with cream cheese.

They weren't nearly as good as the crepes I make…
We just happened to be next to a gelato stand, and we also just happened to have a $1.50 off coupon for gelato. Convenient, no? However, even with the $1.50 off, it wasn't worth it.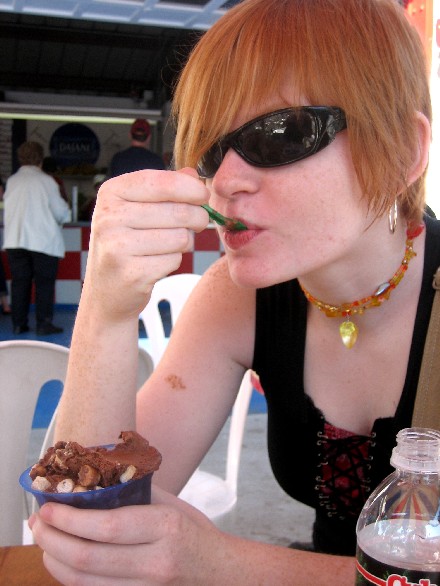 I've been spoiled by real Italian gelato. This stuff was swill compared to that. Don't waste the calories on grainy chocolate gelato with rock hard chunks of supposed cookie dough in it.
After eating, we split up. Mom went to the art barns, and Dad and I hit the Midway. Dad had bought 20 tickets, plus a $6 off a sheet of 30 tickets coupon in his deal. My favorite ride, the Zipper (yes, the very same Zipper I wrote about three years ago!), was temporarily unavailable due to repairs, so we decided to do all the other rides first. First, we went on the Viper. It's a lot like the Scrambler, but instead of going in circles on the ground, it lifts you up in the air and flips around. That was a lot of fun, if a bit short, but I had to hang on to my sunglasses so they wouldn't fall off.
Next, we hit the Kamikaze. We had been standing in line for the Spider, but then we saw Kamikaze and Dad went into one of his reminscing moments. We ditched Spider and were soon buckled into Kamikaze. That is one of the best rides. It's like the viking ship ride at Valley Fair that swoops back and forth, gaining momentum until it starts going around in big loops. Suddenly, my food didn't like me anymore.
Then we found a ride called the Space Racer. It was a big starburst that lifts up and spins in a cross between the Spider and the Viper. I didn't have anywhere to put my purse, so I was desperately clinging to it on this ride. Alas, a loose quarter fell out as I was going upside down, and I was powerless to change its course. It fell to the grate with a clatter, never to be seen again (by me, at least).
We checked the Zipper, but it was still out of order. So we went next door, to the Crazy Mouse. There is also a Crazy Mouse at Valley Fair, and I think that one is better. This small roller coaster jolts you around non-stop. It feels like you're crashing in a car crash every time you go around a corner. The cart is bigger than the tracks, so as you're headed for a turn, it looks like you're going to fly off the track, until JOLT!!! You've turned, and are now going down a hill.
After getting off that… thing, the Zipper was finally back in action. Dad didn't want to be on the first operation after it was fixed, so we waited until a Hispanic couple got off, looking a smidgen worse for wear, but more-or-less okay. By that time a line had gathered, so we stood for about five minutes, then got into one of the carts caskets. Again, I had nowhere to put my purse  so it was hanging off my arm. When the jolting and swinging started, my purse decided to do a backflip onto my face. I held onto it tighter after that. This time on the Zipper, I kept my eyes open.
Finally, we only had six tickets left between us (this was after purchasing the 30 ticket sheet), and since there are no three-ticket rides, we spent them on those game booths. I picked one where you shoot two crossbow bolts, trying to hit the white star in the middle. It was very hard to aim, and not entirely accurate. The first shot I got right on the black line border of the star. Unfortunately, there was a sign that said the bolt must be entirely in the star to win. Right. The second bolt was way up on the left.Dad picked the ever-popular ball toss thingy game (I've forgotten the proper name for it, it's the one where you get six balls, and you toss the up a gentle slope, trying to get them in the scored holes). The amount of points needed to ge the prize was 180. Dad scored 140. Drat that 20-point hole!
We walked back to the sign post that was our meet-up point with RM. Having one ticket left, Dad gave it to a family at random (I think it was random… with Dad, I can never really tell. Sometimes he has some deep theological reason for doing the things he does, as I'm sure you've all seen from reading the blog). Mom walked up to us holding a bag.
"What's in the bag?" Dad asked.  Mom looked at me and said, "Knives." I leaped upon the bag and began examining our new lovely collection of kitchen knives.
It was about lunch time by this time, so snatching up the coupon for a burger in the Food Building, we headed off, stopping only for a couple bee-infested root beers and a fruit smoothie.
Mmmm, Dad's got a wild rice cheeseburger (it doesn't look as if he wants to share, though). It was incredibly delicious.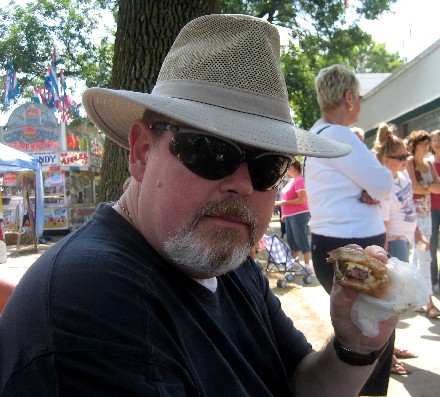 I was going to get a shredded pork sandwich from Famous Daves, but due to the Dan Patch street being so dang confusing, I decided to just eat little things along the way. Our next MO was to secure some deep-fried cheese curds. They are my favourite.  Mmmm – hot, soft, melty cheese goodness right out of the fryer!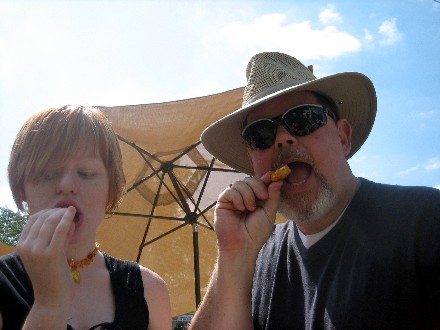 We also had a coupon for Handwriting Analysis. This seems to have become a tradition, so we headed over to the computers and got ourselves analyzed. My three favorite results were:
You enjoy current controversial subjects for discussion (Pirates vs Ninjas. That's what I call a current controversial subject. Ninjas all the way!)
You are somewhat eccentric at times. (Only at times? Really?)
You are conservative, patient, and constructive. (Paired with another thing that it says farther down on the sheet under what your horoscope personality is: …Aquarians are lovable airheads. This creates a personality that is liberal and progressive. Excuse me? *barf* You just can't trust these things. Or maybe I'm just a contradiction to myself.)
After analysis, we went to the International Bazaar (my favorite part of the fair). Mom and I waited while Dad got three samples of beer. They were doing some show on the stage, so we watched a Mariachi band do their thing while we waited. Then we looked at all these different imports from around the world. I stopped at a small stand that was mostly clothing and bought a cute black shirt that had a white border with black flowers and a ruffle of the same flowered material going down the front. Mom bought a shawl of some type of white spiderweb type design.
There was also a Chinese stand with katanas that Faith, Ben, and I had visited last year. I picked up another katana for a friend of mine. It's a very beautiful katana, a deep red color, and a bit shorter than the one I got last year. I hope I can part with it when the time comes…
Leaving the Bazaar, we trekked across the fair to the animal barns, only to discover that the animals go home at four in the afternoon! Oh no! We decided to lift our spirits with some funnel cake. That didn't help much, as Mom thought the cake wasn't very good. She compensated by pulling out her iTouch.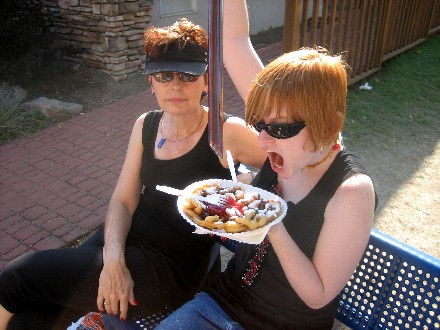 This… is… FUNNEEEELLLLLLLLLLLLLLL!!! Yes, that's the new katana in the picture.
You may have noticed that in each picture (except the cheese curd picture), Dad and I have or shades on. We're trying to keep our identities secret from the Fat Police.
After a long walk and a large amount of calories, we were more than ready to go home. Guess what Mom did on the trip back? That's right, pulled out her iTouch. I think it was a mistake to get her one of those… Remember kids, if you don't talk to your parents about iTouches, who will?
Ciao for now.