Hey, everyone! Sick of hearing about my birthday, yet? Remember, only 361 days until my next one!
My week was a blast; what with winning trivia, Sock Wars, dresses and presents! I especially liked Sock Wars, where several friends I hadn't seen in a while showed up. For Keegan's, though, my memory is a little bittersweet because I really wanted Marty to sing me Happy Birthday, and he didn't show his face all night. Coward. But, I did get a cigar as you all saw in an earlier post.
Saturday was dress-up day, and we ate cake and opened presents. Even Felix fit right in for this occasion, as he always wears a tuxedo. I decided to put a bow on him for good measure. Isn't he cute???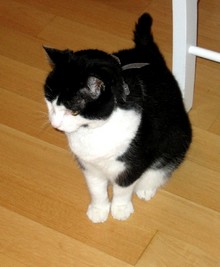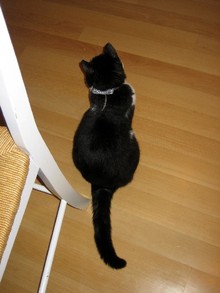 We also played a game that Surly Dave taught to us. We have decided to call it "The Spanish Inquisition!" It's a bit like 20 Questions, but played in a larger group. One person is "it", and they have to leave the room while the group decides on something to do or be. Then the "it" person comes back and has to figure out what the group has decided by asking yes or no questions (there is no limit in this game). Well, one round I was "it", and I must be very hilarious, because the whole group was busting a gut at my questions while I was utterly confused. They were so mean to me! What I didn't realize was that the thing I had to figure out was that everyone wearing glasses had to answer "yes" to every question, regardless of whether or not it was true, while everyone not wearing glasses could tell the truth. There were three bespectacled people sitting in a row, so I'd ask questions of the first two, hear "yes" and then I'd think I knew the solution and I'd ask the last one, my uncle, if the answer was such-and-such. He'd say "yes" but no one would celebrate so I'd ask the next person (no-glasses) if I'd won and she'd say "no." I had to put my head down a lot, because it hurt. Sound like fun?
But anyway, I had a very good birthday. Now I am older and wiser. I feel older because Sock Wars made me sore; and I am wiser, because I know I need to stretch first next time.