by the Night Writer
Last summer when we were in Barcelona we saw a lot of bike racks strategically placed around the city and near the beach, with each rack featuring small, distinctive red and white bikes bearing a "Bicing" logo. Bicing is the name of the municipal bike rental program in Barcelona where potential riders buy a one-year subscription via credit card – I believe it was 6 Euros at the time – and then receive a Bicing card that lets them unlock Bicing bikes at one of the kiosks. If they returned the bike to another kiosk within 30 minutes there was no charge, with longer rentals resulting in nominal costs being assessed to the Bicing-members credit card already on record. Similarly, if the bike was never returned, the replacement cost was billed to the credit card as well. I remember thinking the plan was kind of neat and might have even tried it on some of those leg-weary walking days if there had been a way to get a membership card quickly (they are mailed to you). I thought the idea had some merit in Barcelona where it is balmy pretty much year round, but I figured the climate of Minnesota made this idea a non-starter for the Twin Cities.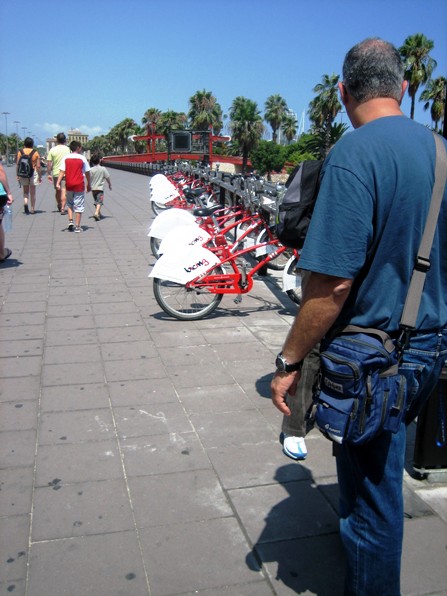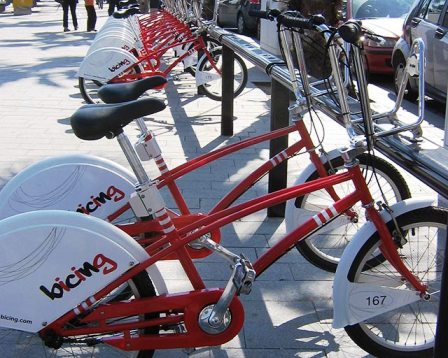 Apparently, I was wrong.
A program called Nice Ride MN is rolling out in Minnepolis this week that is very similar to the Bicing model I saw in Barcelona. As with Bicing, the memberships are pre-paid ($60/year) with credit cards as security and trips less than 30 minutes are free (keep it more than an hour and a half, though, and you'll be billed $6/hour). The bikes are funky-looking but functional; blue and green here instead red and white, but not the kind of ride you'd likely want to steal other than for the sheer perversity of it. They are most definitely short-trip bikes, with smaller wheels and frames clearly not meant for cruising. As the Nice Ride MN site says:
Nice Ride bikes are designed for one job, short trips in the city by people wearing regular clothes and carrying ordinary stuff. All Nice Ride bikes are the same size, the only thing you may have to adjust is the seat, and it's easy!
I can see them being especially popular around the Chain of Lakes (where biker/walker/jogger relations are already touchy), downtown and the University, though it appears from the program map that there just a couple of kiosks near Lake Calhoun and none around the other lakes. It cost $3.2 million to get this started with roughly a third of that coming from a donation from Blue Cross-Blue Shield, a third from the federal government and a third from the City of Minneapolis and various corporate donors.
More utopian versions of this concept have been tried here before, such as the infamous "White Bike" program in Minneapolis. Here white bikes were left around the city with the idea that people would use the bikes as needed and then leave them for other people to use. Of course, those bikes soon disappeared or were trashed. This latest version addresses that with the credit card subscriptions and billing.
Oh, and forget about using these bikes in the winter — they'll be removed from the streets and the program shut down December through March (your annual subscription is actually more like an 8-month subscription).
Personally, I think that if this was a truly great idea then some private company would have come up with the plan and the capital. Instead, the government with some private help is funding it and while I might like the same money to go to, say, fixing pot-holes, I suppose you could classify it as an amenity that makes the city more "liveable". It will be interesting to see how expensive the program is to maintain and administer and how people here respond. The Barcelona Bicing program began in 2007 and the bikes we saw last year all looked to be in good shape but I have no idea how often a bike has to be repaired or replaced. I might even consider using the program myself if I had such a need in the downtown area, though I'm afraid that design and colors of the bikes, along with my physique, might cause people to think a bear had just escaped from the circus.