I think I was 13 years old and just starting to develop some musical tastes of my own. I was in a record store in a mall in Indianapolis, flipping through the "S" selections, probably looking for a Rod Stewart album, when I suddenly saw something that froze me in my tracks.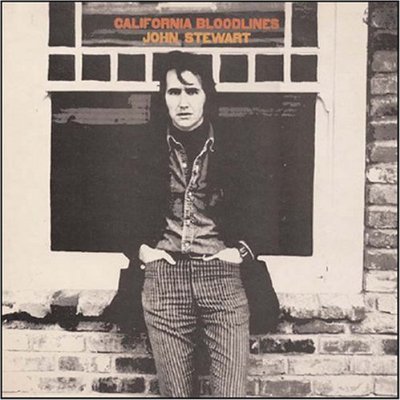 It was stunning to see my name on something other than my football helmet or a gym bag, let alone an album cover. Wow! Somebody with my name had recorded an album! Little did I know that he had actually recorded several albums by that time, and would release more than 40 in his career.
I was almost as shocked this evening when I went on YouTube to see if there were any John Stewart videos and read that he had passed away back on January 19 as the result of a massive stroke at age 68. I couldn't believe that I hadn't heard or read that news when it happened.
I didn't buy California Bloodlines that first day in the record store. The guy in the store said it was folk/country and that was the last thing I wanted as I tried to distance myself from my parents' Glenn Campbell and Bobby Goldsboro records. Ironically, I didn't realize that I'd already heard this guy on some of those old Kingston Trio albums my folks had. Nevertheless I would often check on the album when I was in the store, getting a little thrill each time I read the name. When I got to college I got a lot smarter and widened my musical interests and eventually bought my own vinyl version of the album that Rolling Stone would later rank as one of the top 100 albums of the rock era.
Stewart (and it feels strange to type that), through his work with the Cumberland Trio and Kingston Trio, had been a pioneer in the folk music scene of the early 60s, opening the door for people such as Bob Dylan. In fact, Bloodlines was Stewart's first solo album and it was recorded directly across the hall from where Dylan was recording Nashville Skyline. (Stewart also wrote "Daydream Believer" which was a hit for the Monkees and Anne Murray.) Once I finally owned Bloodlines I just about wore it out, playing it regularly along with an album by Gamble Rogers that featured a cover of one of Stewart's classics, "July, You're a Woman". When I spent a semester in England before graduating from the University of Missouri (my family had moved back to my parents' home town my junior year in high school) I often thought of the lines from the song "Missouri Birds" as I tramped around London:
Missouri Birds flying over old St. Louis
Hear that song they're singing to me
Go into the world, while you're young
I graduated from college in '79 and moved to Phoenix, AZ for my first job, driving across the country in my Pinto while Top 40 radio played "Gold" from Stewart's latest album, Bombs Away Dream Babies.with Stevie Nicks "ooh-oohing" on the background vocals. It was a catchy tune, but I liked the other songs on the album as well, and listened to it nearly as much as I had to Bloodlines. In fact, it was a lyric from one of those songs — "Midnight Wind" — that came to my mind two weeks ago when a friend of mine died in a motorcycle crash. The tune has been rattling around between my ears since then, and it was probably what led me to go to YouTube tonight, only to find that there was one less John Stewart in the world.
I had been fortunate to see him perform in Phoenix while I lived there; he was a local favorite and a loved Phoenix in return, even recording a live album there at one point. I'd like to say that I was at the concert that was recorded, but that would be too much serendipity. In the last couple of years I'd tried to replace California Bloodlines and Bombs Away but most of his music is out of print or available only as an import. Some of his later work is available on iTunes, but his voice — never a particularly strong one — had gotten reed thin and breathy and made me kind of sad.
I was eventually able to get the song "Gold" on iTunes by downloading the soundtrack album for the movie "The Groomsmen" but his older stuff is still elusive. Tonight I went to Amazon, however, and ordered an imported version of Bloodlines before this, too, disappeared. I look forward to re-grooving these songs into my memory banks. Among the many on-line tributes I came across this evening was an especially apt tribute in his own words, taken from "Hand Your Heart to the Wind" from Bombs Away and "Some Lonesome Picker" from Bloodlines.
There's always one more river the sea can carry.
There's always one more soul that heaven can hold
There's always one more star the sky can hang on to
So hand your heart to the wind, let it carry you home.

There's always one more song to sing for the lonely
There's always one more dream to carry you along
There's always one more eagle come flying in the morning
So hand your heart to the wind let it carry you home.

…

And I'm believing, believing,
Believing that even when I'm gone
Maybe some lonesome picker will find some healing in this song
I did strike "Gold" on YouTube tonight as well, but rather than link to that hit (which Stewart reportedly actually hated) I'll post a video of him doing a medley of "Missouri Birds", "Cowboy in the Distance" and "If You Should Remember Me."
Goodnight, John.