That is, if three a gang does make.
The thoughtful Night Writer suggested I spend a day at the spa during our recent Arizona odyssey. I looked at the price of a day at the spa and decided that was ridiculous. Especially since I am the Finance Minister at our house. Then he suggested I rent a Harley Davidson. I'm not a big fan of Harleys, but I discovered you can rent pretty much any kind of bike you want, if you're willing to pay the price. And it was about the same price as a day at the spa, but a much better value, if you ask me.
There I was on the beautiful morning of Wednesday last, picking up the BMW 1200 RT which I had reserved before leaving MN.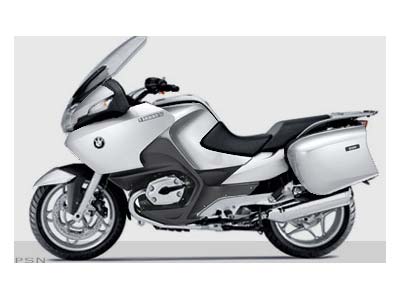 It's a huge bike, the biggest I have ever ridden, weighing in at 600 lbs, wet. Did I mention it's a bit top heavy? At one time in my life I owned a BMW motorcycle which was probably almost as heavy as this one, but it was shorter and had a much lower center of gravity. Does it sound like I'm defensive at all? I hopped on this thing after being briefed on its various accessories (heated seats, heated hand grips, car-like cruise control, vertically adjustable windshield) and functions (LED screen that lets one scroll through more information than anyone could possibly want to know). The owner and his admin. assistant had gone back in the building and, hopefully, weren't watching me because I couldn't get the monster upright off its side kickstand. Boy, did I feel stupid. Then I realized I had my foot too far away from the bike and if I moved it in as close to the bike as I could get it, I could gain just enough purchase to shift the bike upright. I took off looking, I think, exactly like I knew what I was doing.
I rode around the block and started to get the feel of the bike. I could tell it was weighted differently than what I used to ride, but other than that it felt like riding a BMW. It felt great. The BMW shifting has always sounded a little clunky, and still did with this model, so that was normal. I rode out of town on a route that would take me into the mountains.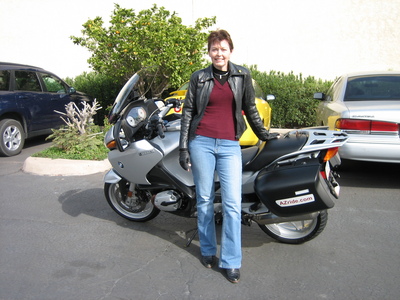 It was a gorgeous day, about 65 degrees, clear and sunny. Why had that couple who had rented a bike just ahead of me put on all that gear? Nylon pants over their jeans, heavy jackets, big gloves. Jeeez, it was a nice day. I began going up, up, up, into the mountains and, oh my goodness, the temperature started going down, down, down. Still, I didn't feel cold until my first stop at Jake's Corner Store, after riding about 60 miles. I got off the bike and went into the store to get coffee and check out the facilities. And I started shivering. I hadn't even realized I was cold until I stopped riding. The coffee felt really good going down. As I was standing by the bike drinking coffee and eating a banana I saw two bikers I had passed earlier at some wayside stop pull in. They didn't stay, however, and pulled right out and drove away. I noticed, however, they were both riding BMWs. I got back on, managed to right the bike, turned on the seat and hand heaters, and took off.
Another thirty or forty miles through the mountains and I came to the Roosevelt Dam, where I decide to stop for the view. I took a right into the parking lot and, lo and behold, there were the other Beemer riders and a few other bikers, as well. Of course, I wanted to look very cool as I pulled around gracefully into a spot, positioning myself so I would be pointed in the right direction when it was time to leave.
Just as I came to a full stop, however, my balance shifted slightly left and … the bike and I went down. As my (helmeted) head hit the pavement the thought ocurred to me to just lay there till I died of embarrassment. I didn't think it would take too long. But I heard the bike was still running so I leapt up and hit the kill switch. At that moment another rider ran up and said "Let me help" and lifted the bike up for me. I was mortified. I started chattering about how I hadn't ridden, really, for years, and was rusty and anything I could think of that would make me look less of an idiot. But he, and his friend who also came over, said this could happen to anyone. They were very gracious and did their best to make me feel better.
We began admiring each others' bikes (turns out they were the guys on the BMWs) and just talking motorcycles, my recent lack of knowledge of which would fill large volumes. We rode together to another view of the dam from the other side, and then, because we were going the same direction we all rode on in a group. Thus, a gang. Of three. All on BMWs. Pretty cool. Especially since I had the biggest bike. If you're wondering how intimidating a gang of BMW riders, picture this: "Hello, we are Hans, Franz und Eva, and we are here to … pump you up!"
We stopped in Superior, AZ for lunch and got to know each other better. I found out Leon was a retired ironworker, living in Scottsdale and Doug was a Baptist missionary on sabbatical for one year from his work in Taiwan. I knew that God had sent them to watch over me and I was very glad of that.
We continued on after lunch, heading back in the general direction of Scottsdale where I had rented the bike. At some point, Doug had to leave us and head home, but Leon stuck with me all the way to the rental agency. When we stopped at a gas station so I could refill the tank I actually had to have Leon lift the bike to upright for me because the combination of very smooth cement, my very smooth-soled boots and a small amount of weariness from riding 200 miles all left me unable to raise the machine to vertical.
Here's a photo of me and my guardian angel and his immaculate (1976, I think) BMW 1000.