The NightHens are at home, but preparing to go to coffee with RM's sister and her daughter, Miss Inver Grove Heights.
RM: We'll call them Her Majesty The Queen and what'll we call Sandi?
Sandi: I'm the Queen Mother.
RM: You can't be. That sounds like you were once the queen.
Sandi: Well I'm the queen's mother. I can be the queen mother.
RM: Hey we're all about accuracy here.
NW: Yeah, that's why we use aliases.
The NightHens are out for coffee at the Boiler Room in the Union Depot downtown St. Paul. Joining us are The Queen (TQ ) and the queen's mother (QM).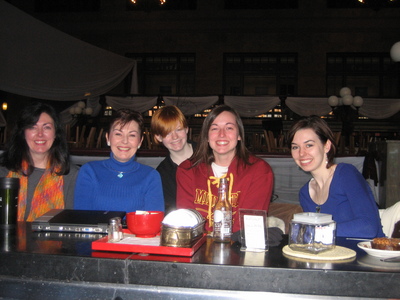 QM: That's not a cookie, that's a plate.
MD: It's as big as my face, I'm going to eat it. I had three cookies for dinner last night. Mom, is your necklace on backwards?
RM checks her necklace and switches it around.
MD: That is so gauche.
RM: Are you on a diet Lindsay?
TQ: No, I just don't care for coffee cake.
TL: You're weird.
TQ: I can't believe I was born into this family.
MD: Yeah, how did that happen? Well, . . . . Sandi and Ken loved each other very much . . . .
RM: That's enough.
A bunch of off the record conversation.
By the way Nicole is our barista today and is listening in to our conversation.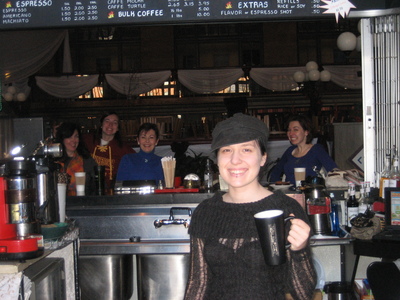 RM: You have way more coffee cake there than you need.
MD: Nuh-uh, I only have half.
RM: Who ate the other half?
MD:uhhm.. what shall we talk about?
TQ: Let's talk about how I turned 20 years old!
TL: You're old. Embrace old age!
TQ: I need a hip replacement.
QM: You're 20 and you need a hip replacement?
TQ: Yeah, I'll be racing the old ladies at the nursing home with my walker!
TQ: Did you write about how I need a hip replacement?
MD nods.
TQ: Well, let me read it!
MD: Oh, you'll be able to read it, and so will everyone else!
TQ: Oh great! I am never coming here again!
RM: It's not the place, its the company.
TL: It tastes shiny.
QM: It tastes shiny. What tastes shiny?
TL holds up the camera.
QM: You licked it.
MD: Well, no one's taking pictures with it.
QM: You don't know where that's been.
MD: Nicole, will you take our picture?
Nicole: For sure.
TL: And then can we take yours as our barista?
QM: Yeah, do you want to be famous?
Nicole: It's bound to happen sooner or later.
QM: Oooooh, good answer.
MD: You're just working here till they discover you, anyways.
RM: The queen can sit here.
TQ: Yeah, if I can squeeze my big queen butt in there.
RM is typing and TL keeps giving her "advice".
MD (to TL) : Maybe you should go take a turn about the room, you're annoying your mother.
TL stares evil at MD. MD seems unphased.
RM: She (TL) just likes to make up new words.
TL: Oh yeah, like rebellity and literalistic.
MD: And perspicacity. What does perspicacity mean? It sounds like perspiration.
RM: It means keen insight.
MD: Oh yeah, Dan Stover is just the picture of perspicacity.
RM: Don't be mean.
MD: I'm not!
QM: Faith is showing her rebellity.
TL: Look mom, a napkin in a bottle.
RM: You should have written a note on it.
TL: Okay!
QM: What does it say? 'Help! A mad scientist is trying to turn me into a little person'? And then the writing gets smaller and smaller.
TL: Okay.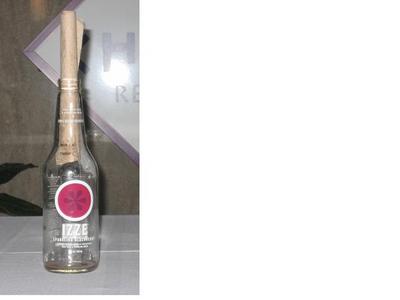 A man walks up and asks if anyone has change.
RM: (about MD) She has change.
MD gets out her wad and makes change for the guy.
MD: I am everyone's personal bank today. Just call me ATM!
Nicole: But you're better because your friendly and you don't charge a two dollar fee.
MD: And I'm cuter too.
TL: Okay, can I have 20 bucks?
MD: No, you can't withdraw, you can only exchange. And you can deposit if you want to.
RM: Our meter is out. Let's get out of here.