"If you haven't hunted man, you haven't hunted."
— Jesse Ventura
I breathed in deeply, imagining I could catch the invigorating smell of napalm in the morning. All I got was dank musk of the forest floor, the scent of plastic and the stench of someone else's sweat from the borrowed helmet. And besides, it was late afternoon. My very own sweat was running into my eyes while swatches of sunlight and shadow cut across my vision as I scanned slowly through the leaves and branches that masked my position. Moving only my head, the light glared off of the pits and scratches in my visor and made the shadows seem even deeper as my eyes probed, alert for any sign of danger or opportunity, for any movement of branch or leaf not consistent with the slight breeze tickling through the oppressive valley. I cradled the gun in my arms and flexed my firing hand to keep it from cramping. I knew someone was out there. Someone who wanted to hurt me.
"But not if I see you first," I thought.
Earlier in the day I had set out on a recon mission, moving along the trail in unfamiliar territory as my footfalls competed with my heart beat to see which could pound louder in my ears. The trail was clear. The trail was easy. "The trail is death," I thought to myself. "The trail is the way the fat, stupid animals go and the strong, clever animals wait out of sight beside it and take the easy pickings."
Picking your way through the branches and brambles, with the cockleburs clotting on your clothing, is hard. Life is hard. Learn to move through the forest and you might live. It's a game really, like a snipe hunt. Except it's not snipe, it's snipers, and they really are out there. Is that sweat trickling along my spine or is it the prickly sensation of an unseen gun barrel drawing down on my back?
The first time I was shot wasn't so bad, really. Everything was fine until the moment of sudden impact. "What? Me? Now? So soon?" flashed across my mind, but there was no denying the thick, viscous liquid that came dripping down my visor. I had reached up with my hand, brought it away wet and slick, the goo the consistency of a bird dropping. And it was yellow. Dammit, it must have been Ben who got me, and I was dead — at least until that round of Paintball was finished, anyway. Then I could seek my revenge. That opportunity had come about an hour later when I had Ben pinned down behind a curved metal barrier. I was to his left at an extreme angle that barely allowed me to see him, but enough so I could pump round after round past the edge of the barricade, so close to him that a deep breath on his part would have ended it, yet he held his breath and his unlikely position, unable to return fire. I fired three more quick shots to keep him still and then rose slightly to move to my right to get a finishing angle. Then came the all too familiar whack on my skull as the ball exploded on my scalp, a jet of orange paint shooting through my hair, dispensed by a shooter from across the field. Another important lesson learned: use your head, or someone else will…for target practice!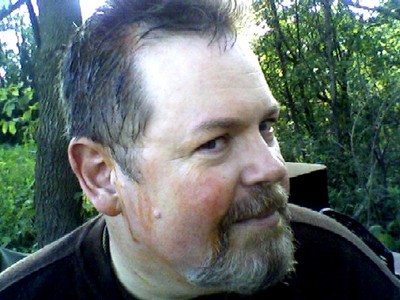 The Orange Badge of Courage. The paintball struck just above the curve of the hairline.
This time, however, I can make no mistakes. I am the left flank of the line, the end. I am Joshua Chamberlain and the 20th Maine at Little Round Top. If I fall, if they get by me, the bad guys roll into our rear, capture the flag and it's over. My eyes continue to scan the area in front of me. About 30 yards away is a wooden barricade, set between some trees, surrounded by brush. I have already swept it several times. This time a black paint hopper and barrel are sticking up above the edge of the barrier. That wasn't there before! I bring up my gun, let out my breath slightly and wait. As the head inevitably comes up over the wall I pour about half a gallon of paint into the area; had I the time and the inclination I could have tattooed my initials into the wood. Instead I focus on keeping the unknown head down so he can't get an aimed shot off at me. More paintballs are coming at me from my right now, but the angle isn't good and the brush around me too thick to permit a serious threat. I fire some suppressing rounds in that general direction while keeping my eye on the original target, hoping he will take the opportunity to show himself. He does; I add another coat to the primer already laid down. I'm aware of activity to my right, but from my side of the lines, then some shooting moving away from me and then the cry — "The game is over!"
While things had heated up by me, Kevin had grabbed the flag and gone forward, sweeping up the right flank and planting it in the enemy base while my two shooters focused on me. One of these was the Mall Diva. A third sniper, Tiger Lilly, meanwhile, had been waiting on the edge of the action, also focusing on me. "Ooh, Dad, if you had only come forward three more feet I would have had you," she said. "Yeah," I thought to myself, "and if fish had feet they'd be mice."
Maybe next time, kid.