I took the awnings down off of the house this weekend and stowed them in the garage attic without incident or injury but that doesn't necessarily mean I escaped a beating. My car is due for some new tires and with the first flakes flying this past week I knew I shouldn't put it off very much longer.
I'll usually go just about anywhere that has a coupon to get commodity-type car service such as oil changes, but for any serious auto work we go to Weinhagen's, a family-run business in St. Paul across the the street from the Wabasha caves. They may charge more than the chain places, but we've used them for nearly ten years and trust their work and advice. We don't usually need a lot of work done, but the Weinhagens always remember us by name when we come in or call and they don't have to look us up in a computer to do so. We only buy used cars and always take any vehicle we're considering buying to them for a thorough check out first.
I think it's worth paying a little more for service when it's with people you trust, especially when safety is involved. When the Mall Diva started driving I took her in there to introduce her to the guys and told her if she ever had a "check engine" light come on or any other problem while she was driving she was to come directly to this garage (heavens knows, it's no use calling me — I can't do anything to fix a car unless it somehow involves swinging a rubber mallet); I told the guys if they ever saw her they were to see she got what she needed and I'd settle up at the end of the day. Everyone was cool with that.
Tires fall into that "commodity" category, however, so once I found out the size I needed I went on-line to check prices and available brands at Tires Plus, Firestone and Discount Tire. Ouch! Everyone was running about $200 higher than I was expecting. Just to be thorough, I called Weinhagen's to see what they had to offer. Not only did they greet me warmly by name when I called, but they offered me a set of 50,000 mile warranty tires in my original price range and vouched that they were the same brand and make of tire that they put on all their company vehicles.
With that taken care of, and the awnings stowed, it was time for some more important maintenance: the Reverend Mother and I went out to Muffuletta for dinner Saturday night to celebrate our anniversary. We've only been here a couple of times, but we really like it. The menu changes every day but it's always imaginative and first rate. It's a great place for a "special" event or to indulge yourself when you're looking for something beyond the usual meat and potatoes. When Marjorie and I go out to eat she maintains her lithe figure by only ordering a cup of soup or salad and saving room for dessert, while eating the vegetables I won't touch from my entree. Saturday night, however we shared the basket of homemade bread and crackers (yes, they make their own crackers, too) which came with a sweet pepper dip, an appetizer of sweet potato croquettes (delicious!) and a salad, and then she had an order of gnocchi with squash and pine nuts while I had the pan-seared Dijon chicken breast on a bed of bacon, apples, leeks and some kind of purple potato that I can't remember where it comes from. Then she had an espresso custard with whipped cream for dessert (ok, I helped a little). Everything was fantastic! Fortunately I had won a $25 American Express gift certificate at work the week before, so our evening was merely indulgent but not excessive.
Sunday there was no Vikings game on tv, so we joined a large group and went out to lunch after church. That's not a typical weekend expenditure for us, but it was fun outing, and it's okay to stretch the budget a little every now and then, right? Then it was time to go meet up with some other friends to have our annual family Christmas card photo taken. Our friends are a husband and wife team of talented photographers who have been able to draw out some cool "album cover" photos of us over the years (credit goes, too, to the Rev. Mum, Diva and Tiger Lilly for being so photogenic). New this year to our group is The One Who Came to Stay, or, as I'll refer to her on this blog, "Bonita". You can see she's a good fit.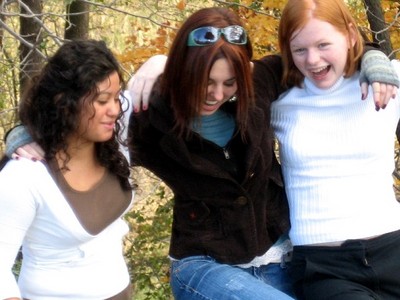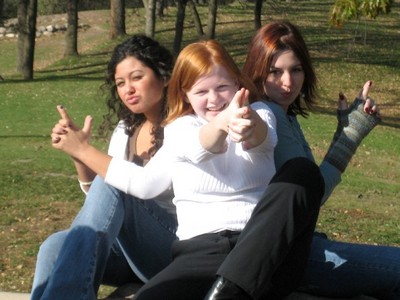 Afterwards the kids all went home to bake cookies … awww, how sweet! That is, until the stove died during the first batch. We think it's really dead, too, but it's been a good stove for a long time; it was in the house when we moved in nine years ago and has an older look and style to it. We'll be searching out replacements this week, which isn't exactly something we look forward to spending time and money on. Still, we're not discouraged. We are, and have been, very blessed. Though there have been times in our marriage when suddenly having to replace a stove (and buy new tires) would have dampened our weekend considerably, and when going out to Dairy Queen was a treat we allowed ourselves only after carefully counting out the nickels and dimes we had between us, we appreciate the favor we've had with God and with man even then. God has blessed us so we can bless others; even if I end up rubbing my neck and writing a check this week, I am grateful that I have the means to do so, and certain that the new tires will get me to the places where God needs me to be, and the new stove will feed those who need a hot meal, or even something more.