I've got a new game to play!
It's about pirates. My mom (that would be the Reverend Mother to you) calls it The Boat Game. But that's not it's name. I'm not exactly sure what it's really called, but everyone at church calls it Pirates. It's something called "a constructible strategy game", which I guess means that you buy packs of game cards and begin your adventure. The packs aren't very expensive and it's a really fun game. It requires a lot of strategy, which some people don't have (wink wink nudge nudge).
Pirates is really fun because you get to act like a pirate. You get to sail around to islands and get treasure from them. In fact, coming up there will be a new series of Pirates that has something called Unknown Island (I think) where there will be things on the island that you have to fight! Oooooooohhhhhh, spooky! You can also sail around and blow people up! NNEEEEEEEEEERRRR–BOOOOOOOOOOOOOMM!!!!!!!!!!!!!!!!!!!!!!!!!!!!!!!! Whee, hahaha! In other words, that means I have the time of my life while fighting a newbie! MWAHAHAHAHAHA!!!!! (Can you tell I'm addicted to sound effects and laughing evilly?)
What you do is:
1. Learn how to talk pirate.
2. Go out and buy a pack of Pirate cards (available at Target for $4.25, or you can give me $3.75 and I'll get you a pack from the bookstore at church, 'cuz they're cheaper there, and I'm nice…sometimes, mwahahaha.)
3. Look at the cards that you got in your pack (it varies on what ships you get, depending on what type you get from the store. There's Davy Jones' Curse (the best one by me,) Pirates Crimson Coast (that one's o.k., sometimes if you're lucky you get a fort in a pack), South China Seas (that one's pretty good, you get a Chinese Junk ship in them sometimes, and junk ships are not junk!), and American Revolution.) There's a game in every pack!
4. You get 40 points to start out with. You use those points to buy ships. (You can only use those points when you start the game, you can't use them when you're playing!)
5. On the main card for a ship there is a row of symbols. The first one is how many masts your ship has. The second one is its cargo space (how much gold and crew your ship can carry.) The third one is its movement (For example, if your ship's movement is "S+L," then your ship can move one short (the the length of the short side of the card) and one long (the long side of the card). And the 4th symbol is how many cannons it has (if your ship has a white cannon and a red one, that means that you have one short range cannon and one long range cannon. Short range is white and long range is red. There is a number on the cannon. If it is a two, that means you have to roll a three in order to shoot someone. Also, you need to be in range to shoot someone, which means if you have a short range cannon, they need to be within a short side length of the card of you).
6. Read the rules to find out the rest, or go here for how-to-play animations. Also, no game boards are required. All you need is a coffee table or any good-sized flat surface and even with only one pack of game cards you've got a game!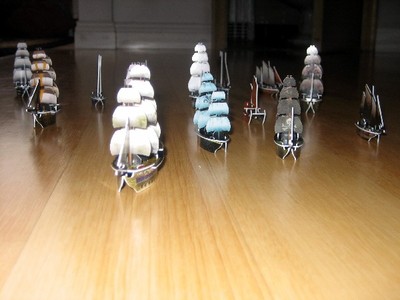 Whoa! A mysterious fleet sails out of the darkness!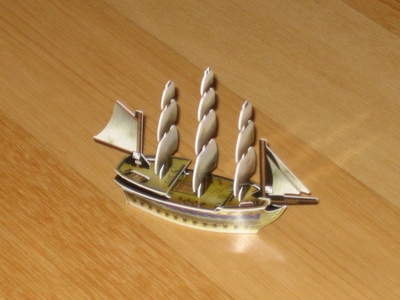 Here's one of my five-masted ships, the U.S.S. Thomas Jefferson. Five-masters are good because they're hardest to sink,
but this one only has short-range cannons. Bummer.
So, interested yet?
Arr, matey.
Ciao for now,
Tiger Lilly
P.S. American ships are not very good, so don't get the American Revolution packs.