One of my favorite sites to browse around in is the Duluth Shipping News. I stop in from time to time to see what ships are in port and to enjoy the photos and often off-beat reporting on events in and around the Duluth harbor, as offered by Ken Newhams.
Newhams is an excellent photographer who has given his digital camera quite a workout over the past few years. Browsing his photos, such as the one below, is the next best thing to making a run up to the North Shore (except I don't get to stop at Tobie's for cinnamon rolls). Besides the current events you can view his photo archives (many images are for sale) and special slide shows going back to 1997 and even listen to a sound-file of the Duluth foghorn or the sound of an ice-breaker breaking ice in the harbor.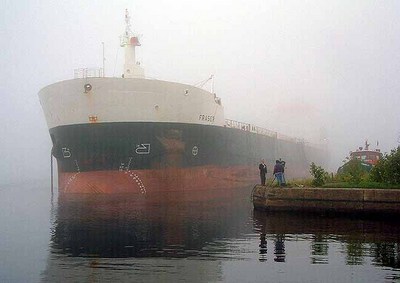 Photo by Ken Newhams, Duluth Shipping News
When I visited today, however, I noticed Ken's account of his recent surgery for prostate cancer. I'm happy to report that he appears to be doing well and is in good spirits and back to posting after a short hiatus. Take an electronic trip to Duluth and check this site out; but keep an eye out for the seagulls!