The best-selling new book "Game of Shadows" has brought to light the startling facts that many have whispered about for years: the Easter Bunny has been abusing steroids. Accustomed to going about his business in the dark, Bunny has been exposed as an insecure cheater who was jealous of the other mythical characters.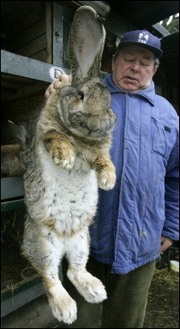 The book describes Bunny as saying he was tired of the attention that "bigger" holiday icons such as Santa Claus and the Great Pumpkin received and resorted to steroids in an effort not only to compete but to surpass his counterparts. "Really, look at those Thanksgiving Day turkeys; you mean to tell me that that's all natural?" Bunny reportedly says in the book, trying to justify his actions.
Whispers about Bunny's increasing size have existed for years though few will admit readily to seeing him. "Well, it was very difficult to bring it up," says Puxatawny Phil, the famous groundhog and close friend of Bunny. "You know he was always this sleek, kind of cute guy with big eyes but over the last few years … he just kept getting bigger, you know? His head, it was huge and those paws and those feet! It did seem like his eggs were getting smaller, though, and those mood swings; I just decided I wasn't going to say anything about it."
Prompted by the media-storm created by the book, the Holiday Commission has announced its own investigation.
(The actual story related to this picture can be found here. HT: The Wide Awake Cafe)