Kevin Ecker of Eckernet infiltrated the St. Paul rally for illegal immigrants on Sunday and has an interesting report with photos. Apparently a group from Pheasants Forever was there to show solidarity and to advocate for the rights of countless birds who regularly thumb their noses at U.S. immigration laws and officials with only sporadic opposition from the Minute Man project and Dick Cheney.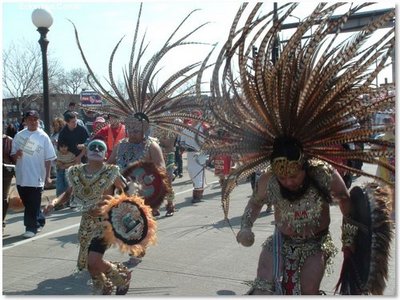 NBC Dateline was also on the scene with people dressed as Muslim terrorists to see if they would be discriminated against, but left when their subjects went completely unnoticed by government officials and other fellow immigrants.
That's not to say the day wasn't without some conflict, however. A brief confrontation did occur between an on-looker and a member of the Pheasant group.
Onlooker (a large, regal looking fellow): "Bloody pheasant!"

Marcher: "Oh, what a give-away. Did you hear that? Did you hear that, eh? That's what I'm on about. Did you see him repressing me? You saw it, didn't you?"
The aftermath of the rally was much neater than the typical protest, however, as several groups of marchers engaged in a spirited bidding war with St. Paul mayor and DFLer Chris Coleman for the job of cleaning up afterwards. One group actually won with a low bid of $3.75 an hour, but the deal fell through when the mayor said that they wouldn't be allowed to smoke. The city ultimately settled with another group at $4.50 an hour plus the mayor's invitation for them to vote as often as they liked in the next election regardless of their citizenship status.