The twins are two years old on the 14th!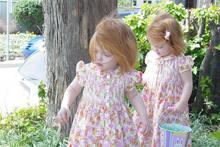 Click to enlarge photo.



Rose (left) and Camille are twin blessings for my sister and her husband, and for our entire family.
Early in my sister's pregnancy the girls were identified as monoamniotic monochorionic twins, or "MoMos". This means they shared one amniotic sac, one chorionic sac and a single placenta. It is a very rare condition also very high risk with mortality as high as 50 percent. (You can find out more at this site.)
With God, all things are possible and a strong prayer chain also helps!
They are an active and charming pair and appear to have their own system of language and signals for communicating with each other. They're also very good at getting their points across with regular folk as well!
Happy Birthday, my dears!