by the Night Writer
It turns out that I have a number of very talented friends who have, in the last few months, demonstrated their skills and creativity by publishing books, making award-winning movies and releasing EPs. With Christmas approaching I thought that over the next several days  I'd feature these efforts here with the thought they might make it onto your shopping list.
First up is a book written by best bud from high school. He later went on to become a marine and a motorcycle cop. So, what kind of two-fisted book do you think he wrote?  Would you believe…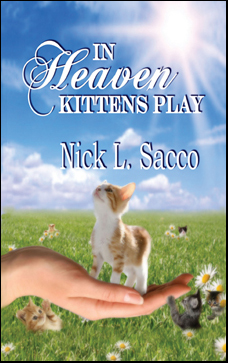 Turns out my friend Nick and his late wife were very involved with cat rescue organizations for the last several years and he has collected his thoughts, experiences and even some visions into a book that is both an moving account of their experiences and a touching tribute to his wife while offering an interesting vision of what happens to our pets after they die. The book, In Heaven Kittens Play: the Blue Angel and Her Garden of Pets is available from Amazon (including a Kindle version)  and from Nick's own website.
It's a very nice read for anyone who's lost a loved one or a beloved pet, and especially for those who are cat lovers (I'm looking at you, Gino). Nick's been criss-crossing the country on book tours, signing books and doing radio and TV interviews but we both found ourselves back in our old hometown last summer where we were also able to catch up with our former Creative Writing instructor:
If you're an animal lover, or know one, this book makes a great stocking-stuffer for the holidays.