by Tiger Lilly
Why is a ninja cow like a stick figure?
Dad and I went to see Alice in Wonderland in 3D on Friday. It being a Tim Burton film with Anne Hathaway and Johnny Depp (among other good actors), I was expecting great things.
Great prices is what we got (great meaning big in this instance). A whopping $25 for two tickets. Of course, we were seeing it in 3D, and of course, it wasn't a matinee.
I'm not saying it was a bad movie. It was a very good movie, but one, I think, better rented from Netflix/Blockbuster/your local movie rental. And here are my reasons:
3D effects did absolutely nothing for it. It was hard to focus with the glasses on, and it made the screen very dark, so you couldn't see probably a third of what was going on. It would have been much better in 2D. The only place where I really noticed the 3D was at the very, very end where a certain butterfly flies out at your face and eats your brains.
You also couldn't understand what they were saying half the time. It was muttered, jumbled, muffled, and just generally gibberish. Sound quality: very poor. This may have been the fault of the theater, but at least if you rent it, you'll be able to use subtitles.
It cost $25 to get in.
There were a few flaws with the movie itself, too. While the acting was good, and wasn't over-the-top, Burton didn't go deep enough into the story. It had most of the things you would expect from Alice in Wonderland, but it just felt a little lacking. Burton also played up the Mad Hatter's part while playing Alice's down. Not that I'm complaining too much about that, however, because the Mad Hatter and the Cheshire Cat were my favourite characters. I thought that as long as Burton was emphasizing secondary characters the Cheshire Cat could have used more screen time. The movie was two hours long, would it have killed Burton to include maybe ten more minutes of kitty power? Sorry, getting off-topic.
Oh, and Alice seems to suffer from a case of Rebellious Princess Syndrome.
Now for the good stuff.
Helena Bonham Carter was excellent as the Red Queen. Nobody could shout, "Off with his head!" quite as authoritatively – but also as casually – as she could.
Johnny Depp (the Mad Hatter) was also good, but this probably wasn't one of his best parts. I loved his tendency to start a very insistent ramble until somebody cried, "Hatter!", at which he would kind of choke and end with a high-pitched, "-fiz! …I'm alright."
The, "Um. From Umbridge/Umbrage/Umbrige/howeveryouwanttospellit," part was great, as well.
The Cheshire Cat shares my affinity for hats.
The White Queen was wonderfully iffy. She seemed to be on the good side, but she had her devilry moments… I think she enjoyed listing off the disgusting ingredients to a certain potion just a little too much… especially when saying, "Buttered fingers…" while drawing in a deep breath.
All in all, I would rate this movie probably 2 1/2 out of four stars. If you are interested in this type of movie, I would recommend it, but only as a rental.
I created stick art of the cast for you peeps (I would have included Stain and Tweedledee/dum, but I didn't have space without it looking odd):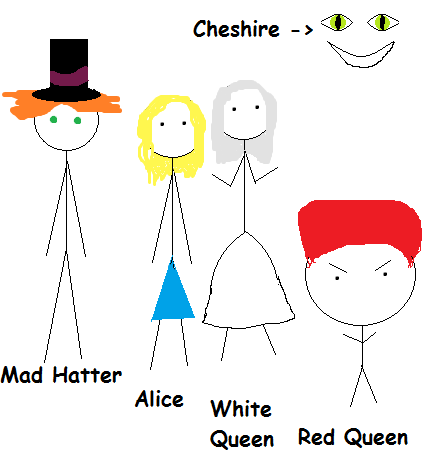 And, finally, the moment you've all been waiting for (hm, they seem to be pointing at Airhead over there…):

I hope you've enjoyed this shooper shpecial preshentation.
Ciao for now.