by the Mall Diva
I'm sorry I missed last week. There were too many other things going on, and cupcakes were not high on the list of priorities.
The Queen joined me again this week for the baking of cupcakes, and there was a certain recipe I wanted to try. This one, in fact, so I went to the store for my ingredients. I found out a couple things: #1- You shouldn't go to the store to buy pears the same day you need to use them, if ripe-ness is important to you; and #2- One vanilla bean costs $10. Yep. "So did you buy it", you might ask?
Heck no! I'm no snob, I'll even substitute imitation vanilla! And as for the pear, I bought a can of sliced pears in syrup, then drained the syrup and followed the recipe the same way. I know, I'm a genius!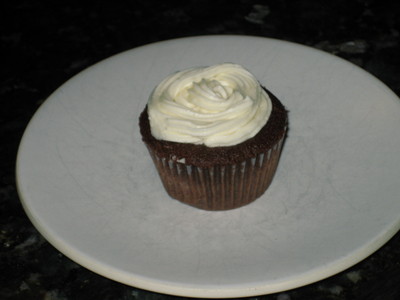 Do you see how cute the frosting on that cupcake is? That's because my own dear mother bought me an icing piper! It is so awesome! Using it makes me feel like a real cake decorator!!!
They were pretty yummy, but super crumbly. That just means I get to practice more! But the problem with practicing more is that I end up with a bunch of cupcakes that I really shouldn't be eating. The way I solved that problem this week was by bringing a bunch to work with me. The ladies there mostly know about my new hobby, and for the most part are willing to support me by eating the results.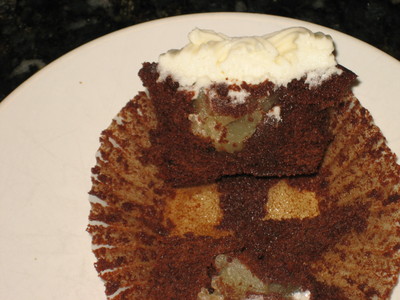 And now I'm sad to say that Chockylit, founder of the Cupcake Bakeshop is closing up shop. I'll be waiting for your next site, and thanks for the recipes!