…was the scariest day of my life. So far.
It wasn't scary in the way that being on stage is scary or being attacked by sharks is scary. (Well, actually, I only have experience in one of those areas. Sharks. Totally.)
It was scary because I had no idea what I was getting myself into, but there was something that I wanted and I needed to find out if it was what God had in mind for me…and if my parents approved. I guess that was the scary part.
So, we all sat down in the living room that day – my mom, dad, me and Ben (aka "MG"). We had convened there to talk about "intentions and mushy stuff". Oh, and earlier when I said that I had no idea what I was getting myself into? Seriously, I was clueless as to what to expect, so when my father asked Benny what his intentions were and he said "…well, one day I'd like to marry your daughter…", I was a little shocked. I know. Looking back it seems pretty darn silly, like what else would we be talking about? But I had never done that before!
Well, "the talk" did go well. Benny has been spending lots of time with our family, because it is, after all, a family affair. And there is a reason for that. Joshua Harris' books I Kissed Dating Goodbye and Boy Meets Girl really helped to keep things in perspective for me, along with people around me giving me really good examples of how to behave, and really good examples of how not to behave.
My dad was right, life is highway. Or at least an old interstate in the boonies. I can't believe a year has gone by already, though its been suggested that I have a lead foot. So, we'll keep driving down this road, kind of knowing one of the stops on the way, but not sure how we'll arrive there or what comes after.
So here we are! We've come to this point in our journey, and we want you in on it.
Oh, and sorry guys. I'm taken.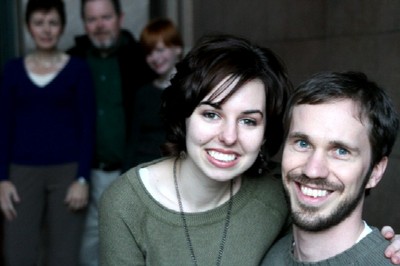 Update:
If you want to know more, go here.