My sister and her husband and twin daughters live in Oceanside, CA, just north of San Diego and pretty much in the middle of the fires. I've been trying to keep up with the progress of the fires and its proximity to where they live. CNN has some interesting video, but watching on TV is maddening since every two minutes Anderson Cooper or someone reminds you to stay tuned for their upcoming program on global warming and how its related to these fires. Somehow I feel like there'll be a lot more smoke in that report than there is in San Diego County — and it looks as if there is a LOT of smoke in SDC.
I've Google-mapped my sister's address and also found NASA's MODIS (or Moderate Resolution Imaging Spectroradiometer) map of the fires in the area, as of 1900 hours on Oct. 23. (See image below).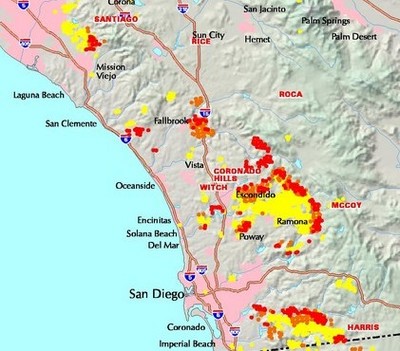 The red areas are fires; yellow marks areas that have already burned. My sister and her family are due west of Vista on the map; the small red blotch north of Oceanside, I'm pretty sure, is the fire located on Camp Pendleton. By comparing the various images I can pretty much pinpoint their home in comparison to the fires, and I've also seen maps pointing out evacuation centers near them, including one at a church that I think we visited when we were out there a few years ago. You'd expect the prevailing winds to be off of the Pacific, blowing inland, which would be good news for them but these are the notorious Santa Ana winds, the ones Raymond Chandler famously referred to in his story, Red Wind:
"those hot dry [winds] that come down through the mountain passes and curl your hair and make your nerves jump and your skin itch. On nights like that every booze party ends in a fight. Meek little wives feel the edge of the carving knife and study their husbands' necks. Anything can happen."
The Santa Anas form over the Nevada Basin, then come riding westward up over the San Gabriel mountains and stampeding down into Southern California like thirsty cowpokes at the end of a long trail. This week fire comes along for the ride.
You can see it coming in shots from space, through satellite pictures beamed into your living room, the reality still somehow so unreal. The technology at my fingertips is incredible, yet the sense of helplessness seems all the more complete because of it. Nature can be a bitch. I've tried several times to get through to my sister's cell phone and the circuits were predictably jammed either by traffic or missing towers or both. So far I have gotten one message through that reached her voicemail. Senselessly I told her to call when she gets the chance, as if she wouldn't do that anyway, but it was good to make some contact, nebulous as it was.
Fortunately there's someone who has a better view than even the satellites and the best technology can provide, and isn't dependent on cell phone towers or microwaves for communication. I've got him on the line.
Update:
We received an email from my veterinarian sister, aka "Queen Chick of the World and Marathon Mom" Wednesday afternoon:
We are all fine and safe in Oceanside except for the daily dose of snowy ash covering the neighborhood. Oceanside, especially near the coast is not a worry, even with the start of a fire near the Camp Pendleton/Oceanside border that occurred due to a transformer explosion near the front gate commissary. They feel this one will be contained very quickly and it is moving northwest. The DeLuz area near Fallbrook and the Riverside County border is pretty scary still. We had guests due to the evacuation this week — one bathroom, plastic up, dry wall dust and all! Jenny and Gene had to evacuate their home in Fallbrook but so far their home is still safe. Fortunately most are safe of our group and clientele. The fire on Palomar Mountain is not controlled; the Witch Fire has threatened a lot of our clients in Escondido and Valley Center and now Julian and is not considered controlled. The weather is changing slowly and they feel that they will have a turn around in the fire control today or tomorrow. The San Marcos fire was west of the clinic and we did not have to evacuate the clinic but it has been very smoky and we are full up with injuries and evacuated pets. More later!