Need I say more?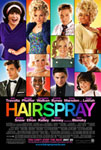 Last Saturday the Princess took me to see "Hairspray". It was absolutely adorable. And hilarious. I almost peed my pants from laughing so hard. It's probably on of the best musicals ever.
Nikki Blonsky does a great job as Tracy Turnblad, who knows she was born to dance, even if she doesn't fit in with all the skinny girls. She is a funny, out-going force to be reckoned with; and she teaches us that dreams really can come true! (Okay, that was a little sappy- *gag, gag*) Anyway, while she fights for her chance to prove herself, she also fights for the equality of her new negro friends, even to the extent of her "assaulting" a police officer! Yup, a great family film.
Zac Efron plays Tracy's love interest, Link Larkin, who is a lot cuter than- and not nearly as annoying as- he was in "High School Musical" (another movie the Princess made me watch).
Oh, and John Travolta makes a pretty good mom.
Watching this movie will most likely make you want to dance and sing- it's so infectious! I can't wait to buy it.