I was driving home from the grocery store tonight when I sustained a frontal assault. Driving past the ballfields in West St. Paul I suddenly heard and felt a loud thump just as my vision immediately got very blurry.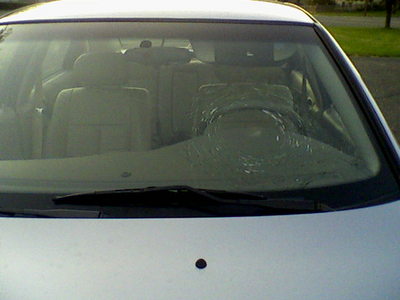 There happened to be a guy sitting in the back seat along with the Mall Diva, and I thought at first that maybe Kevin had launched a preemptive strike on the poor boy. Once I pulled over and determined that everyone in the car was alright and that the reason I couldn't see out the windshield was because of a series of concentric circles and cracks right in front of my face, I looked over and noticed several large guys standing in a nearby ballfield, studiously looking in the other direction.
I pulled into the parking lot and drove a ways over to the backstop where a large and rather sheepish looking guy was rubbing his head. "Heckuva poke," I said, with some admiration.
"Thanks."
"Got any insurance?"
"Uh, yeah."
Fortunately he had all of his details with him and I got everything I needed.
I think I'm still going to have him tested for steroids, though.