I'm going to take a little bit of a different approach with this FiF entry in that I'm not going to delve so much into the character themes in a particular movie, but I do want to call your attention to some treasures you might be overlooking.
I was doing some channel surfing the other night and came across Singin' in the Rain on the Turner Classics channel. It was close to the beginning of the movie and I'd only ever seen snippets of the film, so I put the remote down and the Mall Diva and I settled in to watch. I've always liked Gene Kelly's athletic dancing style and good-guy persona so I expected to enjoy the movie. What I didn't anticipate was how much the Mall Diva would like it!
The phrase, "they don't make them like they used to" definitely applies to Singin' in the Rain and similar movies of that era that used the story mainly to create a link between one singing and dancing number and the next. For that matter, the singing and dancing didn't even have to have much to go with the movie or the story at all and this is especially true with Singin' in the Rain (even the title of this movie has very little to do with the story itself; I think it mainly serves to let you know that this is the movie with the great sequence of Gene Kelly dancing down a city street in a rainstorm). That just serves to make the movie even more of a refreshing change of pace from today's films. Of course, it helps a great deal that the singing and dancing itself is exceptional.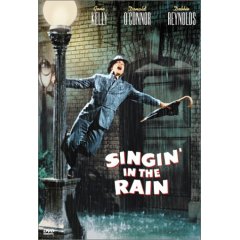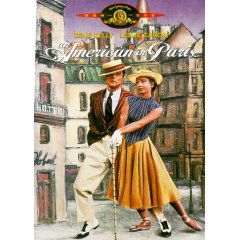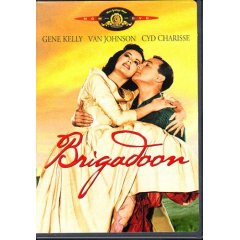 They don't make them like that anymore — and they don't need to because they did it right the first time.
Kelly, as I've said, is brilliant but SitR also features a young Debbie Reynolds and a truly amazing performance by Donald O'Connor. I didn't have much of a conception of O'Connor other than his later "Frances the Talking Mule" movies so it was an unexpected delight to see what gifted singer, dancer and physical comedian he was. The Diva and I laughed outloud at several of his antics, especially in his tour-de-force performance of "Make 'Em Laugh". While the plot of the movie is a puffy confection, the entertainment value is very high. If you haven't seen SitR, don't dismiss it as being an "old" movie; I think you'll be as delighted in the experience as my daughter and I were.
Also, I referenced Kelly's good-guy persona earlier. I've watched several of his movies and always liked his characters (though they were usually just variations on the same). He always played a decent, honorable guy that you couldn't help but root for. Also, from what I've read about him, it sounds as if Kelly was a decent and stand-up guy in real life as well. One of the pleasures of watching some of these old movies is that they could (and did) feature nice guy heroes without feeling an obligation to add some character flaw to make him "real". Okay, that may be necessary in dramas, but I can appreciate good schmaltz, too (which reminds me of the "Schmaltz Waltz" number in Kelly's An American in Paris. In fact, a Gene Kelly trilogy of Singin' in the Rain, An American in Paris and Brigadoon would be a nice collection for a film fan's shelf (tough as it is to leave out Anchors Aweigh or On the Town).
I'm not saying that all old movies are great and all new movies are crap; there's good and bad in every era. Truly good things, however, transcend eras and hold up. If you want an entertaining and uplifting diversion that leaves you feeling good about yourself and others then I highly recommend these three films.