Regular readers know that my wife and I take a dim view of dating, which is a topic that's been addressed here several times. It's nothing personal we have against any young men in particular who are in the vicinity or who might even arrive on the scene, but a belief that there is a better way and a desire for our daughters to approach things in ways that will lead to greater happiness.
Of course, if a guy shows up without an appreciation for the things we hold dear (especially our daughters), well, it could get personal real quick. Our philosophy isn't all that complicated, but it does take some explaining, as illustrated by the medley of posts below.
While I haven't kept a hard count, the first "best of" post below is without a doubt the most read and linked to post I've ever had. A year after it appeared I still get half a dozen visitors a week who have Googled their way to it, many from as far away as the Philippines, South America and even Saudi Arabia.
For a more light-hearted look at the situation, check out the following application I discovered (but didn't write):
So how is this working? Well, despite my best efforts, a conspiracy was hatched and my oldest daughter ended up going to the Prom last spring. It's quite a story of passion, betrayal, boys — and me wielding a bloody butcher knife:
Finally, let it be known that Faith, aka The Mall Diva, and I went to a gun show at the State Fairgrounds a couple of weeks ago. It was amazing – a huge room full of thousands of guns and hundreds of people and NO ONE GOT KILLED! Hard to believe, but not a single gun leapt up off of the table and attacked someone. Anyway, the always fashion-conscious Diva found a special edition Taurus .22 caliber with pearlescent handgrips that matched her purse.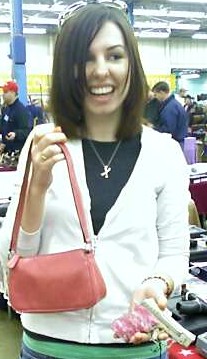 I know what you're thinking, punk. Did she really buy it? Well, considering everything else that's been written here, I guess you really ought to be asking yourself one question: "Do I feel lucky?"