I'm working on a couple of longer posts on weightier topics, but couldn't resist weighing in on Lileks' old logo nostalgia that Ben picked up on. It got me to thinking about some of the signs and logos I saw growing up in Indiana and Missouri. It can be kind of hard to pull these out of the dusty trunk of boyhood memories because the advertising signs were so ubiquitous as to fade almost into wallpaper — and I can't remember any of the wallpaper we may or may not have had when I was a youth except for the horrible red, flocked stuff on the walls of one house we moved into.
The easiest thing to remember are oil company logos. My grandfather had worked for Shell Oil and my father owned a Shell service station, so we saw that logo in our sleep, and recognized the competition:
Loyal as I was, I still had to admit that the Sinclair dinosaur was pretty cool: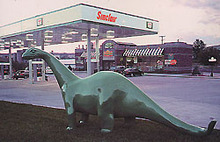 When my dad came home from work he like to have a beer. Wiedemann's ("It's Registered!") was a favorite, but I also remember the old Falstaff logo.
When we moved to Missouri Dad liked to drink a now defunct regional brew: Stag. That reminds me of another obscure Missouri beer that is no longer with us, Griesedieck Brothers. (Yes, the correct pronunciation was about the most unappealing you can imagine, which may be one reason it's no longer around. A fun slogan, however, would have been, "Reach for another!" and just think of the product placement opportunities with Brokeback Mountain.)
If we went out to eat when we still lived in Indiana it was most likely to Burger Chef, an erstwhile competitor of McDonalds, or to a nearby Big Boy. (Whoa, strange flashback. I can remember being at the Big Boy one time when my father tried to explain to me why we were in Viet Nam.)
When I was in high school I would often meet my friends at the local Farrell's Ice Cream Parlor, where if you ordered "The Zoo" (an exotic concoction featuring about 3 pounds of ice cream) the staff would flash lights, blow sirens and race your dessert around the restaurant on a special stretcher in a way that would have made Pannekoeken waitresses seem bashful.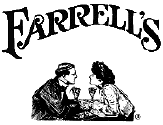 Now that we've got some logos out of the way, anyone up for a game of name that jingle?